Contrary to what many people think, Android was not born in Google. The company with this name was founded in 2003 and had as its initial idea to be an intelligent operating system for digital cameras.
Only those responsible felt that they could go further, and the brand began selling the product to the mobile phone market.
We need to understand that this era is well before the iPhone, which has revolutionized the market.
What dominated the sector at the time was Symbian, the operating system of Nokia. Much more timidly, there was still a mobile version of Windows.
One of the men behind this initial phase of Android was Andy Rubin. He is considered the father of Android because he was one of the original co-founders and then headed the division already on Google.
Before that, he was already dealing with cell phones at a company called Danger. Currently, he owns Essential, which promises to launch a smartphone – with Android! – to swing the market.
The history of the Android operating system
The beginnings of the Android operating system are directly related to the company Android Inc.,
which was founded by Andy Rubinera, Nick Sears and Chris White in October 2003 in the city of Palo Alto, California.
Initially, the company developed technology completely independent of other companies and kept its projects a secret.
Among its main objectives was the development of an advanced operating system for digital cameras.
Sometime later, it became apparent that the market for such devices was not large enough.
so the team diverted its efforts to produce an operating system for smartphones, thus rivaling other systems in the category, such as Symbian, developed by Nokia and Windows Mobile, from Windows.
However, the lack of investments made it impossible for the project to progress well.
Two years later, on August 17, 2005, Google bought the company and put its entire team of developers, led by Andy Rubinera, who joined the company's membership, to work on a Linux-based mobile platform.
They were the first steps that culminated, on November 5, 2007, in the release of the project titled, Android, whose goal was to develop a system for mobile devices under the open standard (standard that is publicly available and has several rights of use associated, and can also have several properties of how it was designed) and built on the Linux kernel version 2.6.
The Android project is linked to the Open Handset Alliance, which is a consortium of technology companies comprised of companies such as Google, Sony, Samsung, telephone operators, and device manufacturers.

Below we list the main changes implemented in each of them
Android 1.0 (not yet nicknamed)
The first commercial version of the operating system, released on September 23, 2008.
It already had Google applications and several other basic features, but at that time were innovative, such as a Media Player, browser and Wi-Fi, and Bluetooth.
He already had access to the Android Market, which would later be renamed to Google Play, for downloading applications.
Android 1.1 (no nickname)
First system update, released on February 9, 2009, fixed bug and bugs from version 1.0 and did not bring great innovations.
Among the novelties are the detailing and display of site reviews when the user would do a search in Maps and improvements in the interface to make calls.
Android 1.5 Cupcake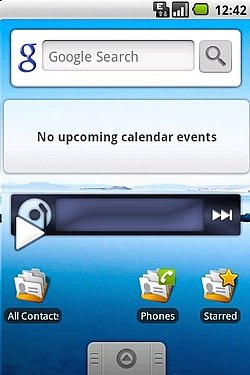 The cupcake was the first official version of the system (not surprisingly, the name begins with the letter "C", the third in the alphabet).
1.5 was super basic, compared to the versions now and had the functions of copying and pasting texts, using widgets, Youtube and some basic animations, besides recording videos with the camera.
Cupcake has been discontinued as the newer versions hit the market and today there are no more smartphones to buy with this system.
It was the first version of the operating system to receive an affectionate nickname of dessert, which became standard thereafter.
Released on April 27, 2009, it included the Widgets, which until today are trademarks of the system and recording and playback of videos in MPEG-4 and 3GP format.
It also included animated screen transitions and keypad enhancements, which went live with the phone vertically and horizontally, support user-customized words, and allow the installation of keyboards developed by third parties.
Android 1.6 Donut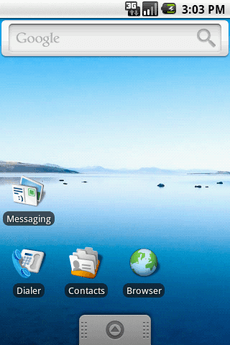 This version was released in late 2009 and featured more screens and higher resolutions, up to 480 × 800 pixels.
In addition, the system has gained a new interface for camera applications and voice search capabilities.
The version was released on September 15, 2009, and brought 800×480 resolution support and the inclusion of a search box already on the home screen, to facilitate internal and web searches.
It also had improvements in accessibility and the inclusion of a voice synthesis system.
It also made Google Play easier to use, allowing for the inclusion of app screenshots.
Android 2.0 Eclair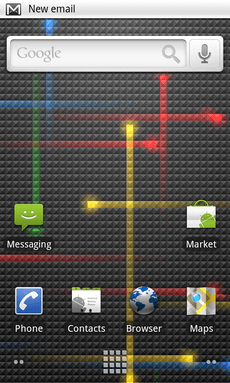 The "chocolate bomb" was launched on October 26, 2009, and marked the first radical update of Google's mobile operating system.
It brought a new interface, optimized hardware speed and HTML5 support in the browser.
The system also introduced the possibility of adding multiple accounts to the device, to synchronize contacts from several different sources, and to support the Microsoft Exchange e-mail protocol.
Later updates only brought bug fixes.
Android 2.2 to 2.2.3 (Froyo)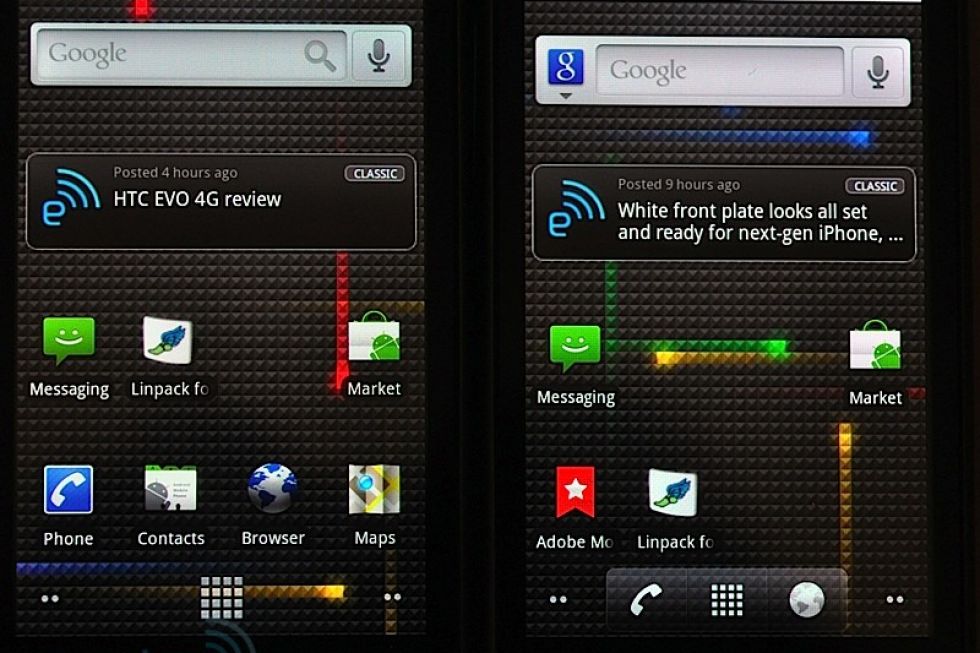 FroYo or Frozen Yogurt was released in the middle of 2010 and its main feature was the speed of the system, which was 450% faster.
From this version, Android starts to get more evolved, with ability to share 3G, WiFi or USB connection, automatic updates of applications and of course,
the great news: support Adobe Flash technology. Today FroYo is one of the most popular versions in the market.
The version was marked by various news that ran under the hood of the system and was virtually invisible to the average user, with optimization of speed, memory, and performance.
It brought the possibility of turning the phone into a Wi-Fi hotspot and installing applications on removable memory cards. In addition, apps can now be moved to the SD card.
 With the update to Android version 2.2.1, some bug fixes were made in September 2010.
The last Froyo version was released in January 2011 as Android 2.2.2 and fixed an SMS bug.
Subsequent updates have only brought bug fixes and minor bugs.
Here are some main features
You can upload files by Browser.
It also supports both numeric and alphabetic passwords
WiFi hotspot functionality
Gallery Allow You to View picture with Zooming
Android 2.3 to 2.3.7 (Gingerbread)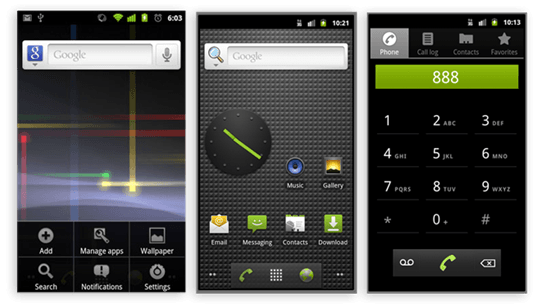 It was the most popular version of Android up until recently, and also more durable, present until today in devices cheaper.
It was released on December 6, 2010, and has brought renewed and streamlined interface and support for HD resolution and NFC technology.
It also started to have native support for sensors such as barometer and gyroscope and to accept multiple cameras in one device. Thus, the front cameras begin to become popular.
Android 3.0 to 3.2 (Honeycomb)

It was the only operating system developed for tablets, released on February 22, 2011. Its new "holographic" interface has been optimized for this type of device.
It has brought camera enhancements and multitasking simplification and support for multi-core processors. Internet browsing has also been improved, with the novelty of incognito.
The system also started to allow the encryption of all user data.
Honeycomb was developed to support the larger screens, as well as allowing tabs in the browser and two bars: one on top to manage the system and another on the bottom with clock and shortcut buttons. The camera and applications have also been adjusted.
Most Smart TVs using the Google TV system used a modified version of Honeycomb 3.2.
Android 4.0 to 4.0.4 (Ice Cream Sandwich)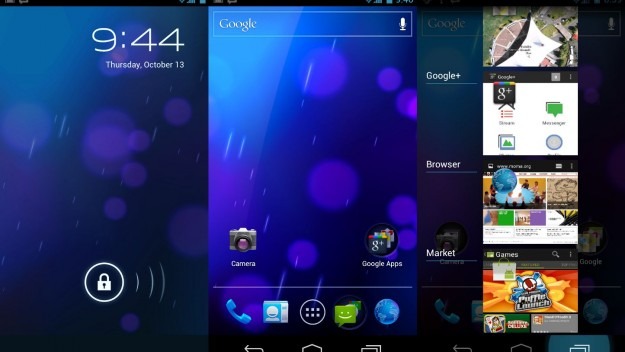 The Ice Cream Sandwich was released in November 2011 but was announced along with Google Music.
This version came to unify the tablets and smartphones in a single version of Android, instead of operating in separate versions.
The innovations of the system were: control of Internet traffic, simple editing of videos and photos, screen unlocking by facial recognition, among other resources.
The version brought to the smartphones the virtual buttons available on tablets with Honeycomb, abolishing the need for physical keys on the devices.
Introduced the Android Beam, which allowed the rapid sending of files by approaching devices, via NFC.
It also included the ability to access applications directly from the lock and unlock screen via facial recognition.
Chrome started accepting tabbed browsing (up to 16 concurrent tabs), and the system brought native photo editor.
Android 4.1 to 4.3 (Jelly Bean)
It was released on July 9, 2012, and has brought a renewed and sleeker interface and expandable notifications. The issue also brought Android Beam support via Bluetooth.
The 4.2 included the Photo Sphere technology, for 360º imaging and brought the possibility of performing gestures in the lock screen to quickly access the camera of the cell phone.
The 4.3 had other minor changes, but an important one was the possibility of using the volume button for the camera, in the cases of devices with pure Android.
Improved Bluetooth, keyboard and deployed restricted profiles, to prevent children from shopping with their father's card without permission, for example.
Android 4.4 (Kit Kat)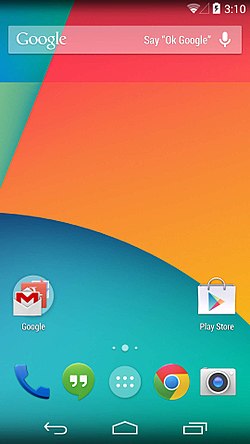 Officially launched in late 2013, Android 4.4 brought improvements in performance and security, as well as Google Now.
which allowed it to perform more tasks through voice commands such as sending text messages, playing music, or searching for routes.
The Kit Kat was a major transition version in the Android universe.
It was in him that Google began to test the ART runtime (which would definitely be implemented in the next version), a new framework for more fluid animations in the interface, and new optimizations for memory and battery.
Kit Kat came into the world together with the Nexus 5 from LG but was also available in its pure and integral version for the Galaxy S4 Google Play Edition, the only Samsung with pure Android released to date.
Little is known about the new version of the operating system, other than the name, granted as a result of a partnership between Google and Nestlé.
ANDROID Lollipop (5.0)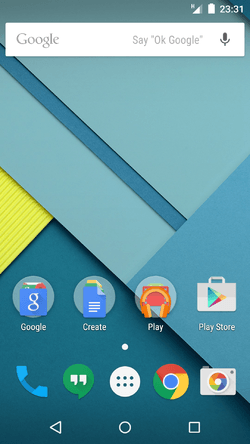 On 03.11.2014 Android 5.0, alias "Lollipop" was released. Here the notification bar has been redesigned. This version is now also used for most Smartwatches.
The Android version 5.0.1 (02.12.2014) was mainly optimized for the use of "Android Wear".
On 19.12.2014 another update was released with Android 5.0.2, in which bugs have been fixed.
Android 5.1 has been available since 09.03.2014. Among other things, stability improvements have been made here.
The latest Android version 5.1.1 was released on 22.04.2015 and fixed some bugs again.
ANDROID MARSHMALLOW (6.0)
Marshmallow is one of the latest versions of Android and brings updates to NOW, which runs commands without interrupting usage. Plus, it lets you manage apps that access your smartphone's features, saving you more battery life.
If you own a Nexus 5, Nexus 6 or Nexus Player, you can also download the final Developer Preview 3 of Marshmallow in advance.
A detailed description of the new Android version can be found in a separate article. Here is a short overview of the new features:
 Better rights management for apps: You will only be asked for permissions when you use specific functions of an app. This way you don't allow access in advance that you might not use at all.
 Longer battery life: Background processes are automatically terminated and no longer strain the battery.
 Faster charging by using the USB standard "Type C", which not only charges faster but also has a plug that no longer has to be turned. In a separate article, you will find all the advantages of the new charging plug.
 Separate volume control for notifications, media and alarm tones.
 A fingerprint sensor is comparable to Apple's Touch ID.
ANDROID NOUGAT (7.0)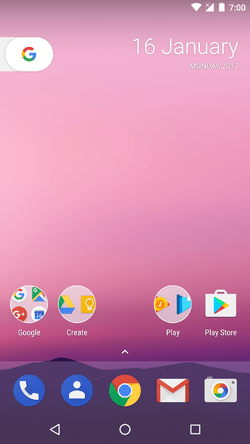 Android Nougat was released in 2016 and is the penultimate version of Google's operating system so far. It stands out for such innovations as opening two applications at once and new notifications.
Features such as battery charge optimization, standard application settings, and data plan economy are also part of this release.
New features include enhancements to the notification center, Vulkan gaming API implementation , and 3G / 4G mobile data saving mode.
Oh, and we can not forget that it was only in this version that appeared in pure Android the option to split the screen with 2 applications, which had been present for years in Samsung and LG devices.
This version of the system also marks the death of the Nexus line and the birth of the Pixel line, which now bets on the premium segment.
In addition to the usual improvements in performance and security, there are also some major new features.
1.Background update: On more recent smartphones, updates are downloaded and installed completely in the background on a second partition. The user doesn't notice anything about the update anymore.
Splitscreen: If you want to use two apps at the same time, this is no longer a problem since Android 7. In the split screen mode, two apps run in parallel on half the screen, as long as the app supports splitscreen mode.
 Notifications: Google has done a lot of work on the notifications. Among other things, you can now reply to WhatsApp messages directly via the notification without opening the app itself.
 Data saving mode: The data saving mode has also received a major update. In the settings you can, among other things, turn off the data tap for selected apps.
ANDROID OREO (8.0)
This version is the latest version of the system, launched in 2017 and with super modern features and functionality.
The Oreo guarantees twice as fast on power-up, auto fill function and picture in picture, which allows you to perform two functions at the same time.
The most important news that Android 8 brought to smartphones was undoubtedly the native password manager.
which automatically logs you into a series of accounts and services, the fastest 2x boot , and the "Finger" mode; which keeps an eye on all installed applications, and lets you know when any of them are behaving badly.
In addition to the generally adapted look, the settings app has become much clearer.
Speed-Boost: Besides the usual optimizations, some fundamental changes should not only speed up the start of apps, but also the boot process when switching on the phone.
Smart Text Selection: Phone numbers, addresses or entire URLs are not always copied easily or quickly. With Smart Text Selection, a simple double-tap is enough to copy the desired area.
Picture-in-picture mode: What Apple has already introduced on the iPad is now also available for Android. If an app such as YouTube or Chrome supports the function, you can let the video continue to run in a small picture while you use other apps.
App icons: The icons of apps are always static except for the clock and calendar apps. Now all other app developers can also animate or dynamically design the icons.
Rescue Party: The new Rescue Party function is supposed to help with boot loops. If the phone restarts over and over again due to a serious software error, the function should detect the problem and automatically switch the smartphone to recovery mode.
Android 9.0: Pie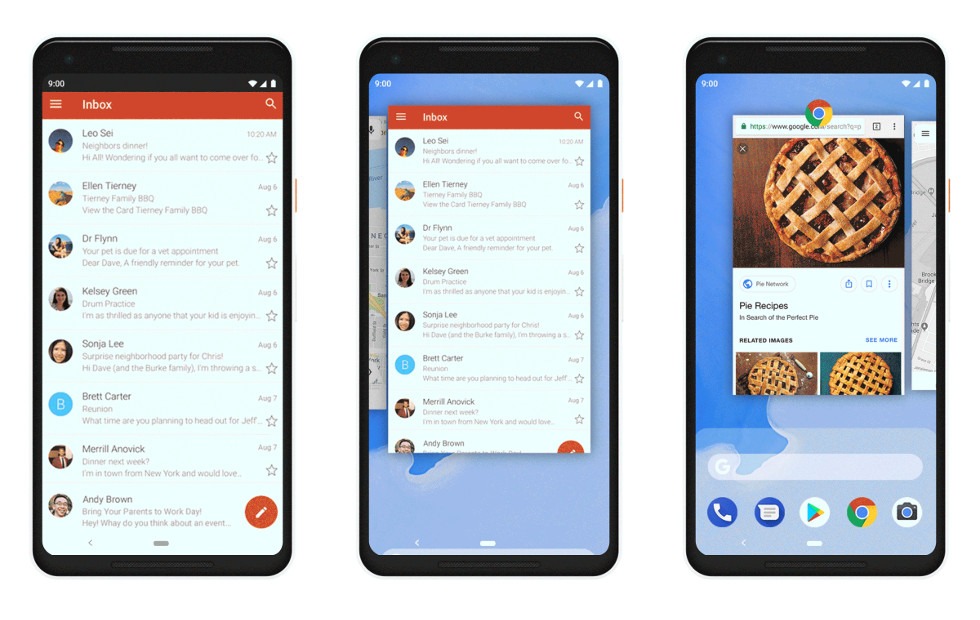 The latest version Android 9 was released on August 6, 2018. The names Pancake and Poptart were very popular in the rumour mill. But in the end, Google chose the simplest name Pie (cake).
Battery intelligence: Android analyzes the usage behavior of your apps and automatically assigns a higher priority to frequently used apps. This is primarily intended to save battery power.
App intelligence: Android should also be a help when using apps. If you connect your headphones only to make calls, Android will recognize this behavior. In the future, the phone app will start automatically as soon as you plug in your headphones.
Brightness: The brightness of smartphone displays is usually automatically adjusted to the ambient light. Now you can specify in the settings whether you generally prefer it a little brighter and darker.
Little things: In addition to 157 new Emojis, there are many smaller changes. Here you can find all changes of Android 9.
Android 10.0: Q…
Currently, there is hardly any information about the next Android version. Rumor has it that Google is working on a new graphics engine that is much faster and more energy efficient. A manual backup function is also planned.
In every new major version of Android, a funny "Easter Egg" has been added. Where and how you can find this Easter Egg in your Android version is shown in another practical tip.
That Android gets better with each new release released, this is evident.
However, some people still prefer previous OS versions of Google. Regardless of what the favorite version for each, the truth is that Android has come to stay as an operating system for the mobile platform.
Is Android a safe operating system?
Android, like iOs, is not immune to attack. Every operating system, every software and every protocol has security holes; sometimes more severe and sometimes less severe.
And just because a software or a protocol so far no security vulnerability has been found that does not mean that it is one hundred percent sure.
Software written by human hands always has the potential for mistakes. That's just like that.
Whether a system can now be considered safe also has to do with how quickly the manufacturers react to security gaps and close them.
For example, Google's Nexus and Pixel devices say that security holes are closed very quickly. However, if you own a device that is older than 3 years, you will only benefit in exceptional cases from security updates.
Because Google currently ensures only for 3 years that your pixel is supplied with the latest security updates.
It gets problematic if you have a smartphone from another manufacturer. First, Google fixes the vulnerability.
This is then passed on to the manufacturers and then it is up to the manufacturers, when they deliver the patch. Unfortunately, in many cases, they do not arrive at the end customer at all.
Another curse and blessing are the Custom Roms that can be used on Android. You have the option to use the latest Android version on older devices through Custom Roms.
However, it looks even more fatal with such vulnerabilities or their patches here.
And besides, you do not know what those who created this CustomRom have built into the operating system code. Anyway, I would not do any online banking with an android running a CustomRom.
Generalized one can say: Would you like to use a "safe" Android, then you should change every 2-3 years on the latest smartphone, in this case on the larger manufacturers such as Google or Samsung set and buy no cheap brands from China.
On the subject of security but you have to say very clearly that Apple here with iOs the nose in front.
This is due solely because Apple retains the hand over all iPhones / iPads or does not dispense iOs over other manufacturers. In addition, at Apple, even 5 years old devices are supplied with updates.
Conclusion
The decision which operating system you want to use is up to you. Android is an open system with many free apps and countless ways to customize the operating system.
Even hobbyists have their fun by rooting the devices to get more features or Custom Roms. The prices for an android are different. From cheap to now quite expensive everything is represented.