Grammarly is the best tool to improve your English. If you are a blogger or you don't want to make any English mistake while typing on the internet then you should read this entire article carefully.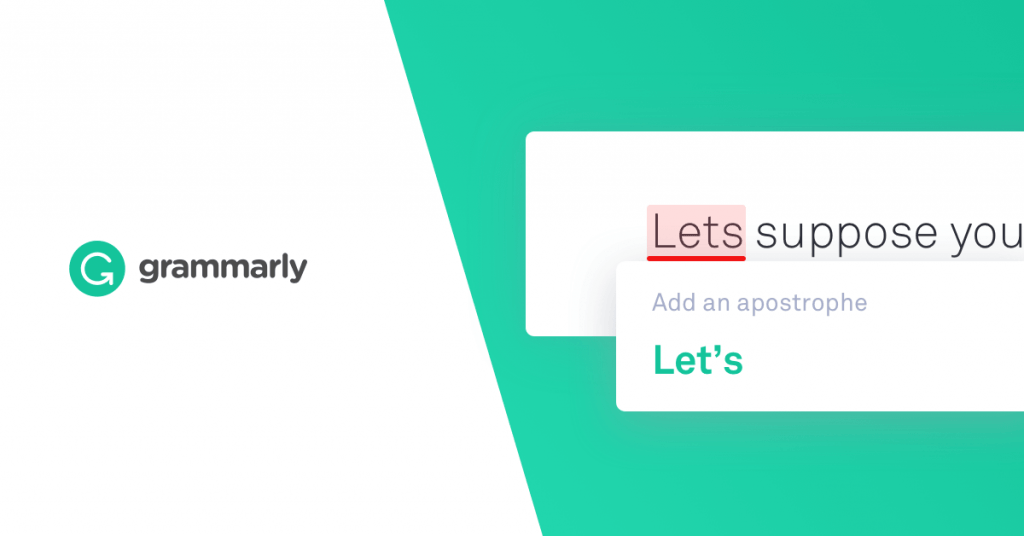 In this, I will show you how to get Grammarly Premium Account totally free. Before writing this article I search on the internet and I found that everybody is writing bullshit.
Recently Grammarly created keyboard app for the android user which is great I mean you can use it in your android phone too.
The company has already released an extension for Chrome, and software for window and add-in for the office. You can use it on any device.
other articles you may like
How to Get Netflix account Free
Grammarly Free version is good enough for the starting but if you are pro blogger or English is very important for you then you should have the premium account.
You know still after 3 years of blogging my English is still very bad but Grammarly is here to help me. Without it, there is no chance that I will become a successful blogger.
But you know premium account price $29/month.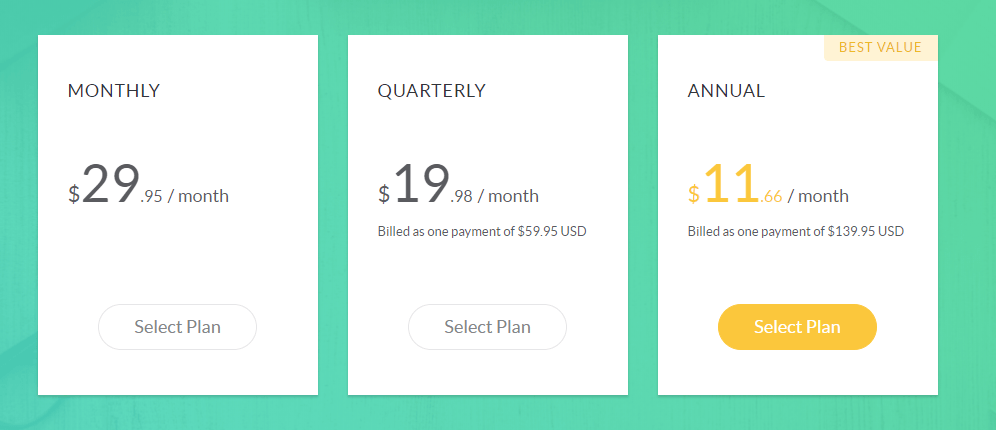 I think the price is very high.
Grammarly just shut down referral programme. I will publish only working methods with the screenshots.
There are mainly 3 ways to Get Grammarly Account Free or in Very Cheap price.
How to Get Grammarly Premium Account Free
Using Flikover: I don't like this method
ok, this method only works for the only Indian people and you will get Grammarly account only at 200 per month which is very cheap. But you can use this account only on your computer within the Chrome browser. You can't even use the Chrome extension
You have to use only the Grammarly editor.
Personally, I don't like this way.
I mean in 192 inr you will get 6 months subscription by Accountbot and within 200 you will get a premium account for a month but you can use only in Chrome browser.
Who Idoit will buy from Flikover
Actually, Flikover website buys Grammarly Premium Account and then you have to install their extension. Basically they SharW Account by cookies.
One Account is shared with so many people.
Here is the procedure
Make sure your computer has already installed Google Chrome. If not then install Google chrome and then
Install these two chrome extensions from the Chrome web store
Click here for the first extension
and this
[appbox chromewebstore flikovertwo/emmmmanoibifkafpojkpppdjaldbkehh/related?authuser=0]
As you can see I already added these extensions.
After that visit flikover.com website and click on the try for free.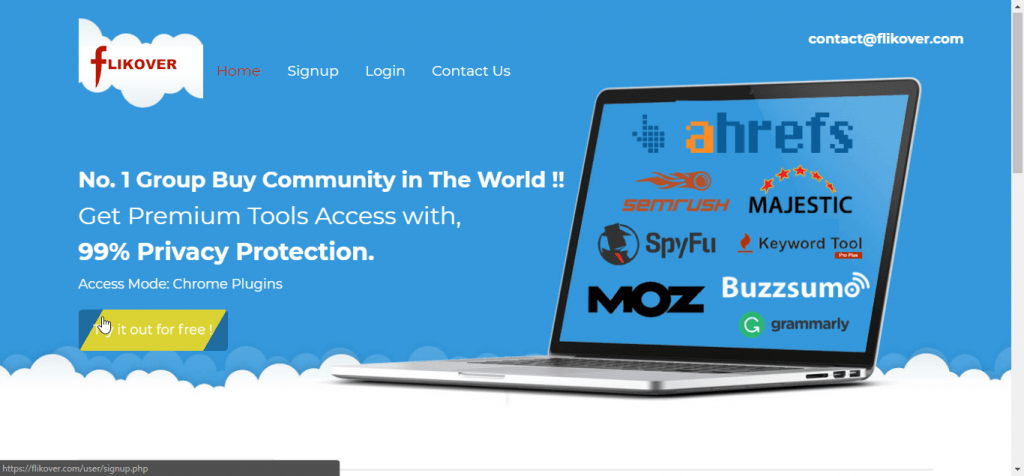 It will take you to the signup page as you can see in the screenshot.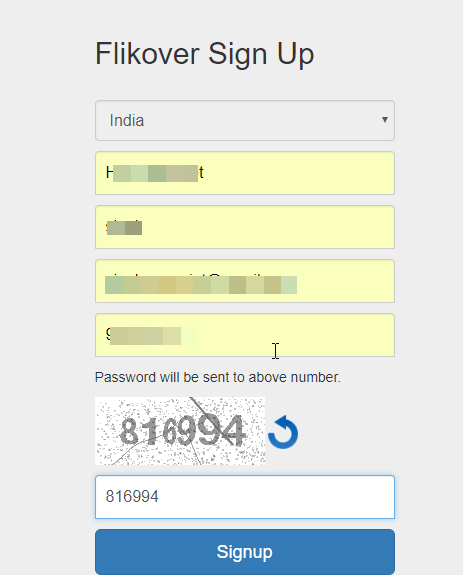 Complete your form. Make sure you fill correct details especially mobile number because you will receive a password on your mobile number. Fill out the form and click
After completing form it will show textbox like this.

Now that Go to the Login page and log in your account enter your email and password that receive on mobile number.
After Successful login, you will see the dashboard page like this.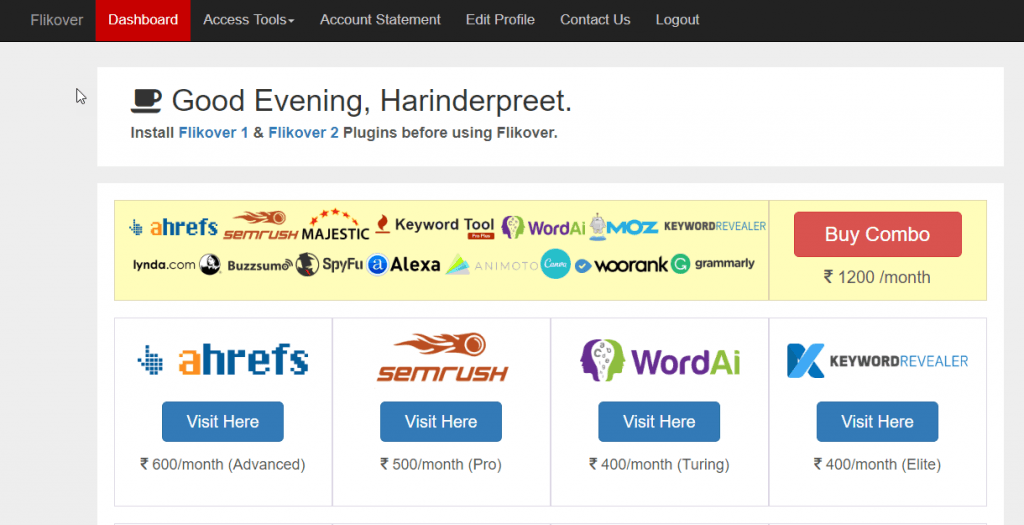 Scroll down and select Grammarly
Click on Buy Now under the Expired as shown in the screenshot.

It will take you Next page click on Pay Now
As you can see this page is related to payment. There are mainly 4 ways of payment. You can pay using net banking, credit card or using any wallet like airtel money, freecharge, oxygen, Jiomoney, OLA etc.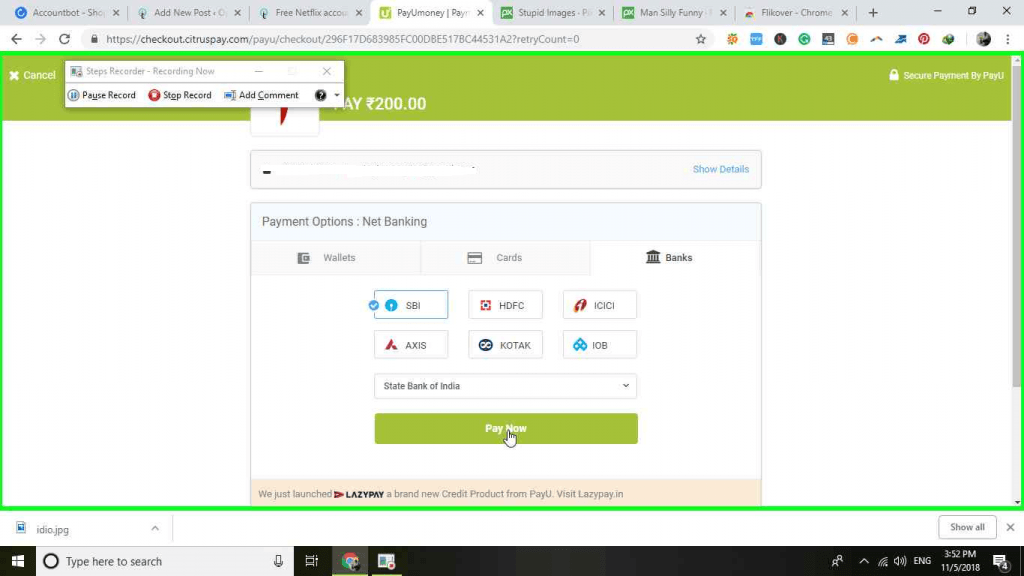 Make your payment. After making the successful payment you will see something like this. Now you are ready to use Netflix.

From Acess tools Select Grammarly and click on Click here to access Grammarly premium
it will open the Grammarly website with already login an account. 
Methods that are working not more
Referral Method: I see a lot of bloggers promoting this way but you know right not it is working not more. In this, if you referral Grammarly free plan to your friend then you will get the premium account free for the 7 days. But people referring to himself I mean they create a new account so Grammarly shut down this program
Free username and password: I don't who the hell is providing premium account free. You will find a lot of not working username and password list.
Website owner claim that someone has changed the password and email. Nobody change password these accounts are not working before writing article.
Moral: Bloggers just makes you fool. Don't waste your time.
Grammarly Free with Access Code:  I don't talk this.  A few years ago it was working but these days it not working anymore.
Free for Student: I don't know from where these idiot bloggers read that Grammarly providing premium account free for students. I have personally verified it. In the student plan, you can buy a premium account in bulk.
Requesting For Free Account:  I don't think by Requesting you will get free Grammarly Account.
Now it is your turn
Know you tell me which method you like to get Grammarly Account free. I think the giveaway is the best one. At the end totally depends upon you. Spending 5 dollars for a year is not a big issue.
Tell me which method you like. If you have any suggestion, Query also let me know by comments I will response you within 24 hours.
Get Grammarly Premium Account Free: Only working Methods (No nonsense)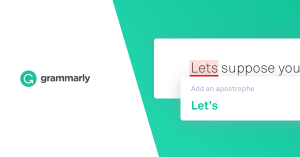 Grammarly is the best tool to improve your English. If you are a blogger or you don't want to make any English mistake while typing on the internet then you should read this entire article carefully.