Whether you are a professional photographer using DSLR or just a person looking to create brand promotion images from the internet, you need image editing software to get the most out of your photos.
And while the best tools are not absolutely free, some of them are "freer" than others giving you full access to the most essential features for getting the job done. 
If you are looking to design images like a pro for nothing, these apps will let you accomplish just that.
1. Canva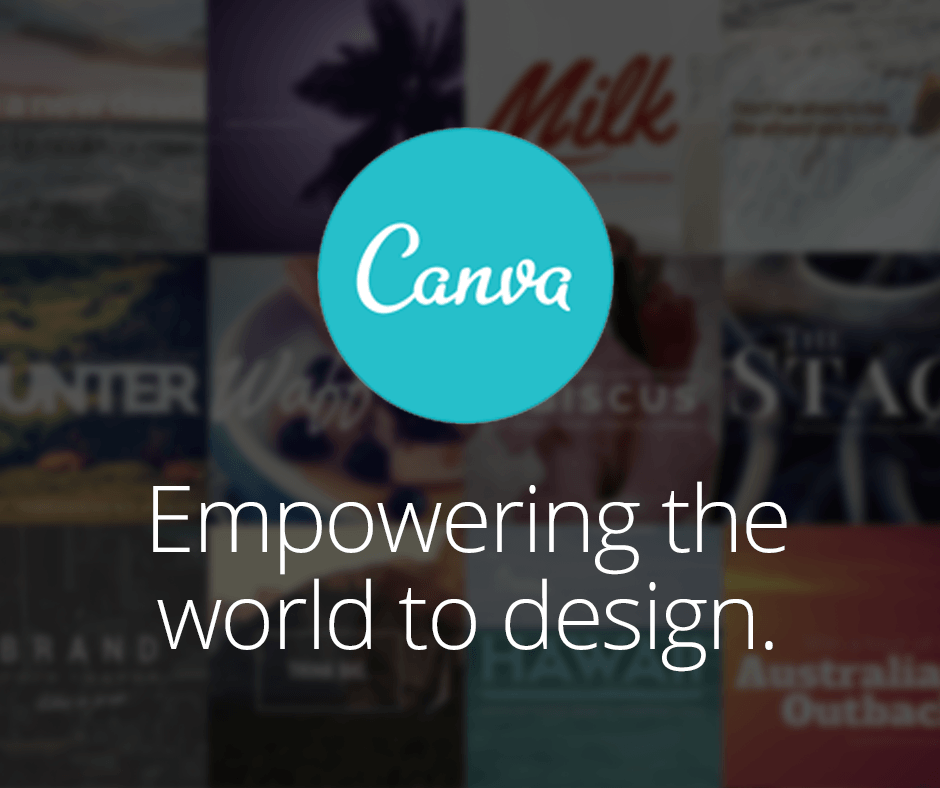 Accessibility: Web & App
URL: https://www.canva.com/en_in/
Canva, a very popular photo design, and editing tool because of its fun, easy-to-use platform, kicks off our list. The platform can be accessed from any device, accepts a wide range of image files and comes with absolutely lovable image enhancement features. It also has one major advantage over all the other competitors – since its launch, it is constantly evolving to keep up with the changing image trends especially when it comes to social media trends.
Canva comes with a wide range of free photo editing tools such as web wireframe, image cropper, photo straightener, photo blur, photo vignette, transparency tool, textures, design grids, icons, stickers, badges, etc. which enables you to give your images a voice. As it is also used for design, so it involves creating infographics, presentations, logos, flyers, social graphics, book covers and a lot more.
To get started, you only need to head on to the website and create an account using your email. You can upload your own image or choose from the available image presets & templates.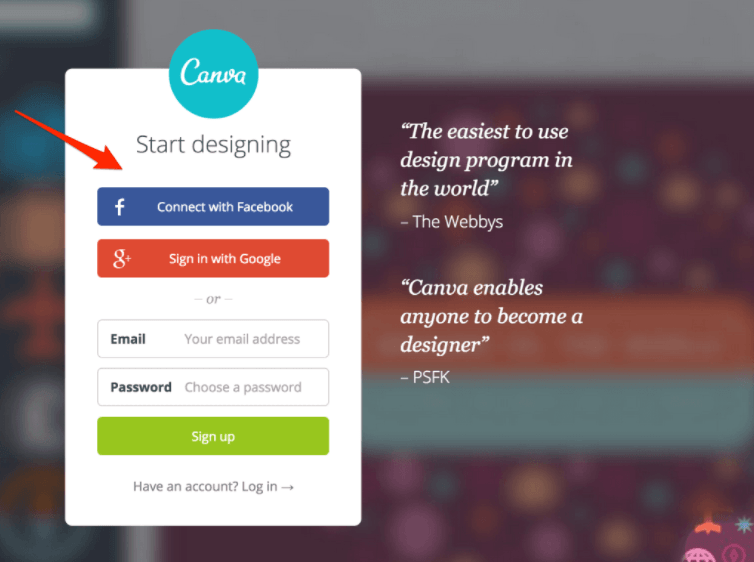 Overall, Canva is intended to be a great photo editing tool with all the editing necessities and it certainly lives up to that.
Pros
A simple drag and drop interface

Ideal for social media sharing

Constant upgrades

Supports a wide range of image formats
Cons
You cannot customize the impact of the filters.

Lacks advanced plug-ins such as layers and blending.
2. GIMP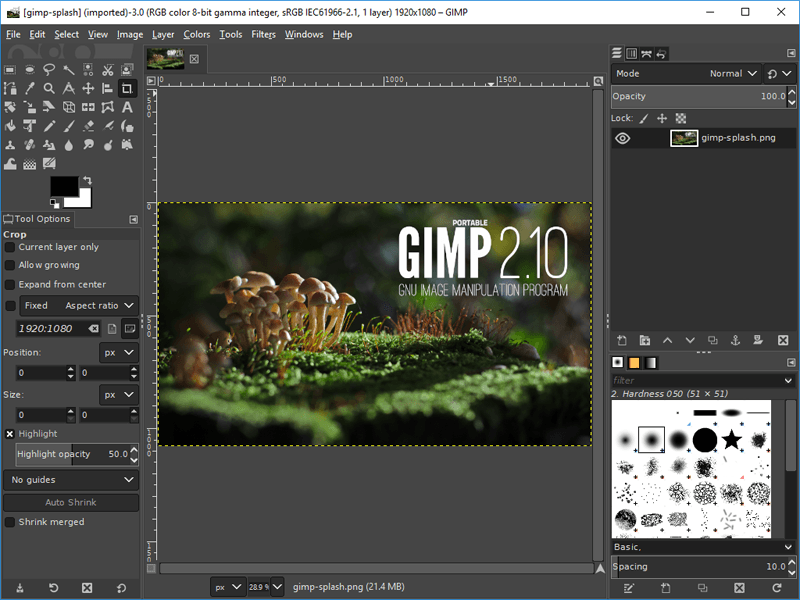 Accessibility: App downloads for various platforms such as Microsoft Windows, GNU/Linux, OS X
URL: https://www.gimp.org/downloads/
GIMP is also among the most popular free image editing tools that we have today. This app will give you a similar experience to Adobe Photoshop only that it is absolutely free.
Launched in 1996, this photo editor has been around for quite some time and has established a huge following in the design community as a result. The criticism from this flock of active followers has pushed the developers to come up with a faster, stronger app.
The up-to-date version, GIMP 2.10.10, features the latest photo manipulation tools such as color management for print publishing, layers, channels, masks, warping, and creative composites which are only limited by your imagination. It also features multi-language support (Perl, Python, C, C++, Scheme and many more). 
Compatibility with a wide array of advanced design plug-ins is what sets GIMP apart. It allows you to use GIMP as the base for creating the dream photoshop UI.
Modern artists will especially like this tool because the recent update comes with seamless brushwork and more advanced features such as grid and symmetry-guided drawing. 
Pros
Compatible with a wide range of advanced design tools
Cons
A complicated platform which might be hard-to-use for beginners
3. Inpixio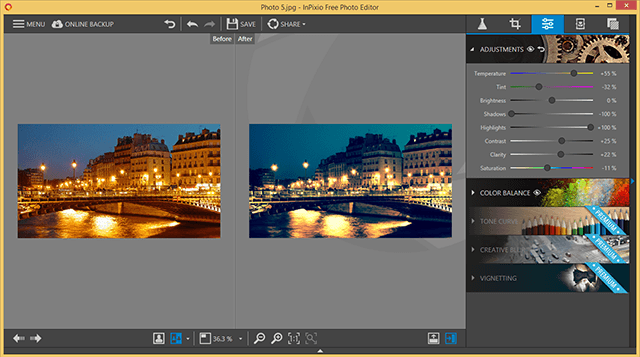 Accessibility: Web app and an app for iOS
Inpixio is yet another image editing tool with an easy-to-use platform. You can access a wide range of frames, drawing colors, stickers, textures, and filters. You will especially like the before and after view feature that allows you to view the original image alongside the altered image. When you are done with editing, the app allows you to save the image into a file type of your liking or share it directly on social media.
Pros
Cons
The best tools are only available in the paid version of the app
4.

 

Pixlr X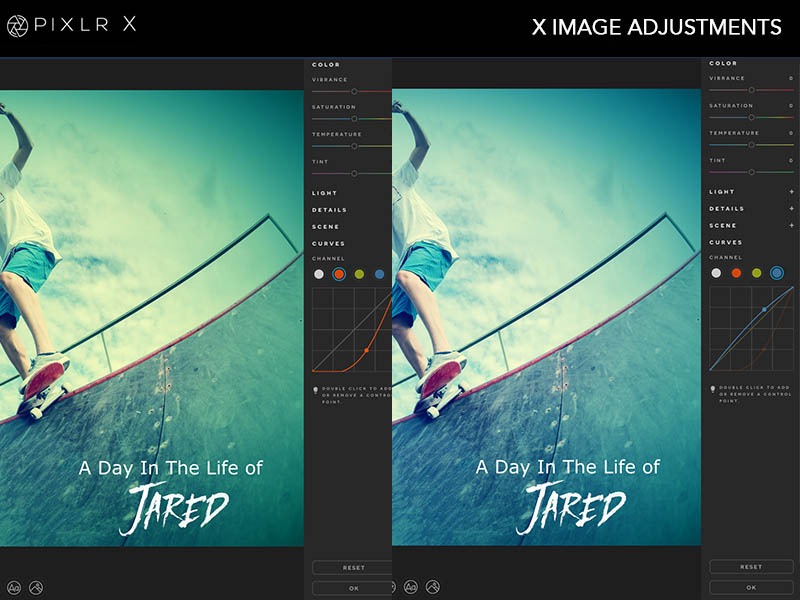 Accessibility: Web app and mobile apps for iOS & Android
URL: https://pixlr.com/x/
Pixlr X is a simple image editing tool designed by 123RF. As simple as it is, it allows you to perform a wide range of editing functions such as cropping, color adjustment, and blurring. It also features nearly 100 filters for an unmatched image transformation experience. 
Just like most premium editing tools, you will find layers, transparency & blending meters, and photo collage.
Pros
Work-in-progress available across all devices

No registration required. Get straight to work!
Cons
Rare updates especially with the drawing tools
5. Adobe Photoshop Express Creator
Accessibility: Web app
URL: https://www.photoshop.com/tools
Just as the name suggests, Adobe Photoshop Express Creator is a simple, fast tool for editing and sharing images. With this app, you can perform all the basic editing tasks from cropping to adding filters. There are also a few features and effects exclusive to its platform including Sketch, Crystallize, Pixelate.
Quite unique, all the filters come with seven to 8 adjustments. They can also be combined.
Pros
Customizable filters which can be used together
Cons
Edits jpeg files only

Needs flash on the desktop app
6.

 

Snapseed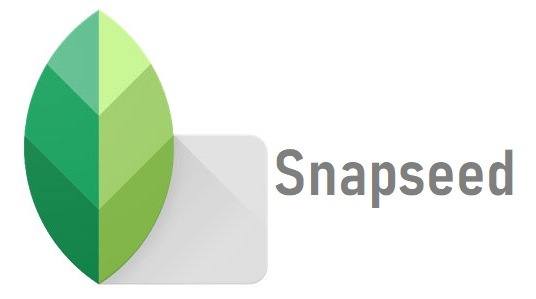 Accessibility: iOS, Android
In the list of best free image editing tools, Snapseed is a popular mobile photo editing app.
Snapseed is a mobile photo app which works exactly like a standard photo App but with some great filter options. If your Standard App has 10 filters then Snapseed has 100 options. It consists of a lot of specific tools, like tilt-shifting, perspective, grain, glow, brightening etc. It also omits any kind blemishes, dullness or scratches on your pictures.
Pros
Multiple filter options to edit images perfectly

Easy to download and use in mobile
Cons
Edit only one picture at a time
Editing your photos can be a real pain but it can be fun when you use these amazing and quick learning tools. It might be hectic to select from many photo editors, so you have it this for you now.
We picked 6 of the best free image editing tools in 2019. It's time to put out some high-quality images on your website and social media platforms.
Other articles you may like
Lucky Patcher Apk Download for Android
WhatsApp Plus Apk Download For Android
Yo Whatsapp Apk Download For Android