Do you love playing games on your android phone? off curse a lot of people do this. The gaming industry is making really addictive games.
But there is only one problem Ads & In-app purchase. This thing is very annoying. Some games only work with the internet and when you turn on Data you will face ads.
But don't worry today I have a solution to all problems. The solution is Lucky Patcher.
Some of you might already know about this if you don't then don't worry I will explain.
What is lucky patcher?
Lucky patcher is must have a hacking app for all gamers. It will help you modify game according to you or Help you in-app purchase meaning you don't need to spend money. In Short, you don't need money to buy more lives, etc and it will also remove ads.
It is more than this you can remove ads, modify in build apps but for all features, you have to root your phone.
Rooting means no warrantee but for in-app purchase, the user does not need to root the phone. Next time you like an app want in-app purchase free then don't search on the google Mod version of x game.
Use lucky patcher instead of this. I have tried it with many apps and it works perfectly fine. But it does not guarantee that this will work for all apps because developers are updating their apps.
Your system shows you a warning this is a harmful app, contain malware. Ignore it because Google doesn't want you to use lucky patcher for getting paid stuff for free.
| App Name | Lucky Patcher |
| --- | --- |
| Size | 8.3 Mb only |
| Price | Free |
| Founder | ChelPlus from Russia |
| Downloads | 1 Billion |
| Android Version required | 2.3.3 |
| Last Update Release date | April 10, 2019 |
| Earning Source | No source, Non Profit App. (Makes little money from website) |
| Ram & Internal Memory | 2gb & 8gb Free space |
Features of Lucky Patcher
Here are all features of Lucky Patcher that will encourage you to download and use this app.

1. No Ads
No matter which app you are using. Using this you can create a custom copy of that application where you will control permissions, ads, etc
You have to uninstall the previous app and install new build app.
Ads on the android phone are very annoying especially full-screen ads. I have tested it with many apps. When I first heard about this I thought it will not work anymore in 2019 but it is still working.
There are two ways to get rid of ads 
Buy No ads subscription
Use lucky patcher
Problem with the first method is that you have to do this for every app. So my recommendation is the second method.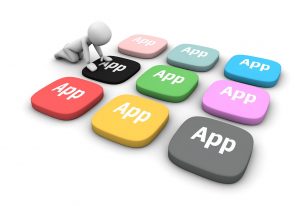 2. Makes your app's system so nobody can delete them
In the last month, I start playing pubg but my parents forced me to play this game. They have just uninstalled it from my phone.
In India Pubg is responsible for many circumstances some people do suicide with it, some become mad.
Anyway, but if you are position is similar to me or you want to keep an app on your phone then you can make them system apps like Camera, Message, etc meaning bloatware.
But for this feature, you have to root your phone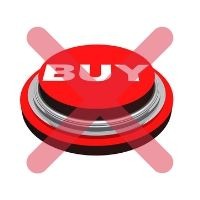 3. No In-App Purchase
In these days coin is part of every game like ludo, temple run, subway surf, etc. But if I told you have you can get unlimited cons or whatever is available in-app purchase.
This is one of the best features. For any reason, if no ads did not work for you then you can remove ads using in-app purchase.
I have tested this feature with the above three games it works perfectly. I don't know how it bypasses Google willing system but every time it works.
4. Paid Apps Free
There are so many apps where you need a license to use them. Although the app is free you need o pay for the license but using lucky patcher you can bypass this feature.
This is also one great feature of LP.
5. Backup
So sometimes we have important stuff in the app & we don't lose it. In this case, Lp will help you. Using this you can create backup and then you can use this backup at any time.
For system apps this is must step otherwise if you have important stuff like coins then you can also use this.
It will create a backup with just one click. From the bottom, you can find backup and use it at any time.
You don't need to root your phone for creating a backup.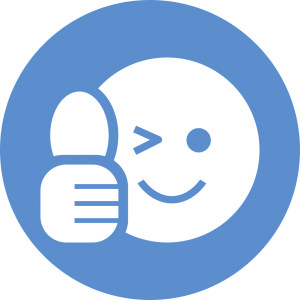 6. Create Custom Permissions
Almost every app needs permission to your contacts & Gallery.
If you are testing a new app and it requires critical permission which you don't want to allow then you can create a modified app where you set app permissions.
I know you have denied the permission to contacts. Recently I have found an app which asking for the contacts permission but it does not require to proper function and without permission, I'm unable to open the app
I test a lot of apps so I really need this thing I hope it will help me in the future.
7. Custom Patches
For some apps, it is difficult to control them so lucky pather team have created custom patches for many apps.
You can find custom patches in the sidebar. It will take you to a website where you can download custom patches.
8. Move App to Sd card (Required Root)
There are many apps available on the play store to move Apps from the Ram to the Sd card. This is a pretty famous feature.
But this is extra lucky patcher feature so you did not need any extra app.
Requirements & Permissions
Lucky patcher is working all phones but make sure you check before installing the app
2 GB Ram
Android 2.3.3 Minimum
8 GB internal storage
For all features, your device should be rooted
Here are all permissions
Location
Storage
Start in background
Display pop-up window
modify system app
Change wifi connectivity
Home screen shortcuts
show on Lock Screen
Download & Installation
use this button to start your download
Installation is not easy as you think read full procedure or watch video

After downloading it from the above button open it for installation.
Make sure you have permission for installing from unknown source otherwise it will show you the error " For Security Reasons, your phone is not allowed to install apps from unknown source" click on the settings and turn on permission. Start the Installation process again and click on the install button.
While installation it shows you a warning like this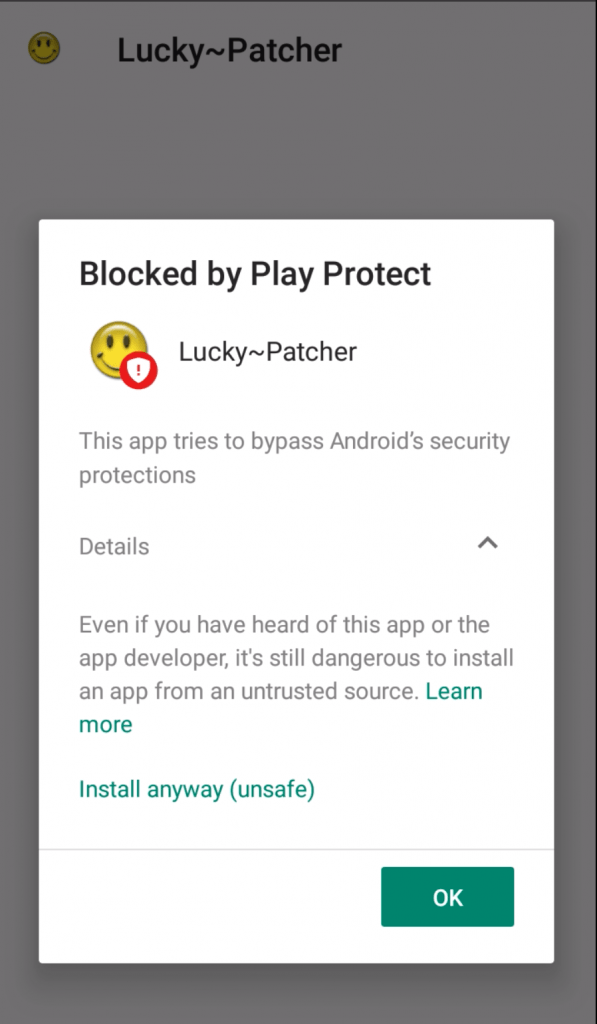 The Android team does not want that you get paid content for free so that's why it is showing you the warning. Click on the details and tap on the install anyway (unsafe).
So Your installation is almost done but still some things you need to do.
When you open this app the first time it will ask for files permissions and location permission. Allow both permissions.
Then it will show something like this. Click on the yes and then install proxy server for in-app purchase app as shown in the screenshot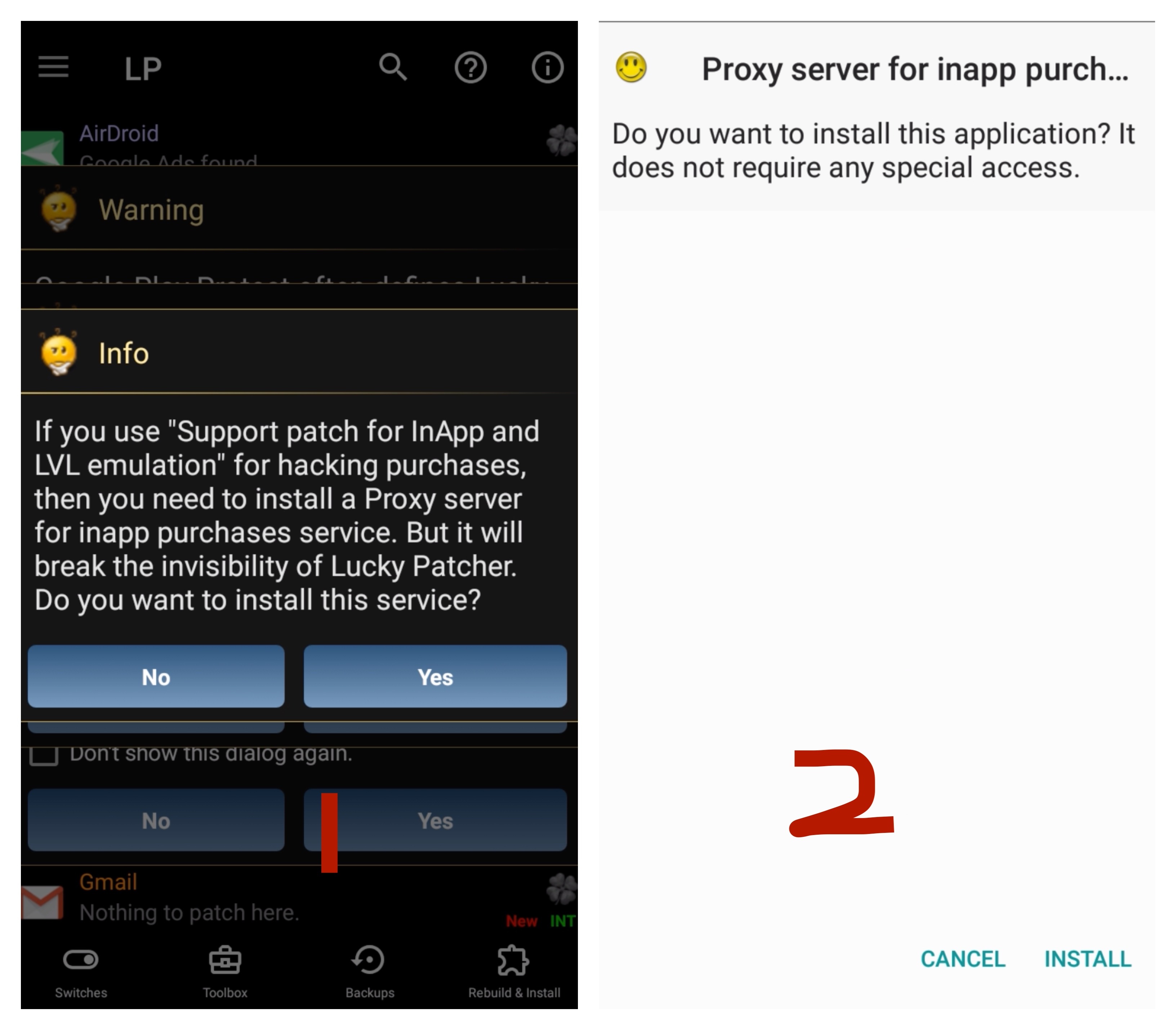 While Installation you may see something Just clicks on the allow button.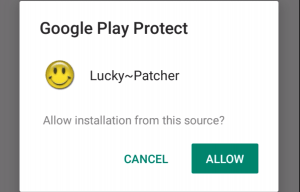 Then It will show you custom patches updates available. Update them too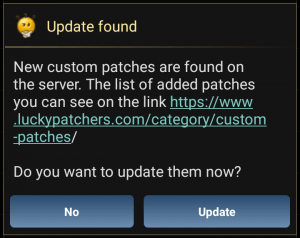 Other pop-ups are useless. You can configure settings or you click on the no button. The lucky patcher will work without configuring allowing them
How to use Lucky Patcher: Practical tutorial

Make sure you follow all popup messages allow whatever this app needs.
For the tutorial, I will use two apps first is my own app whatsfly and second is subway surf.
Message: Guys unlimited coin removing ads decrease developer revenue so if you are an honest man and appreciate developer work then don't use lucky patcher
First is whatsfly,
This is an android app which is used for saving WhatsApp status, latest truth dares message and WhatsApp images status.
So this app will show ads as you can see in the screenshot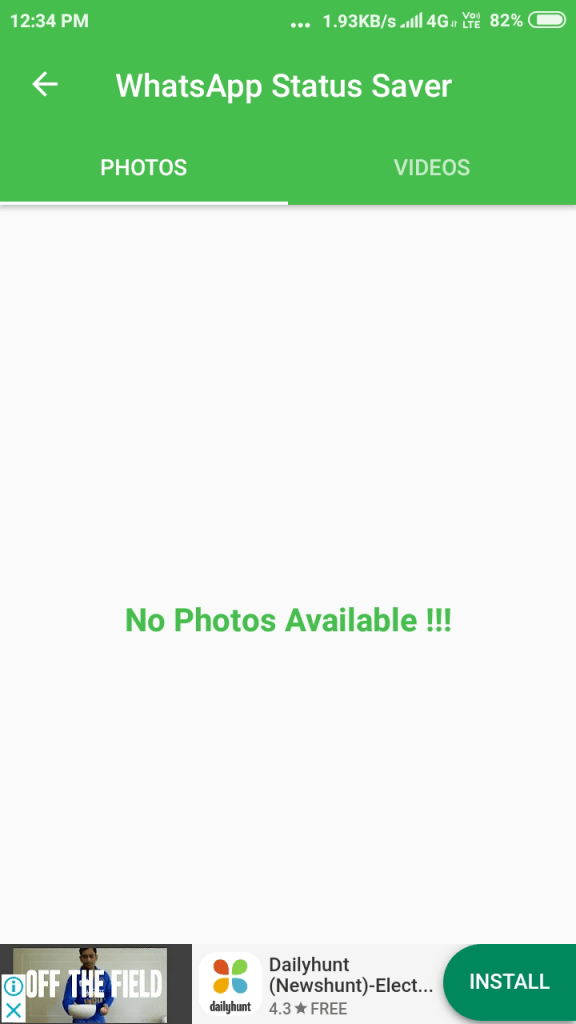 So open lucky patcher and found whatsfly or you can use the search box and tap on it.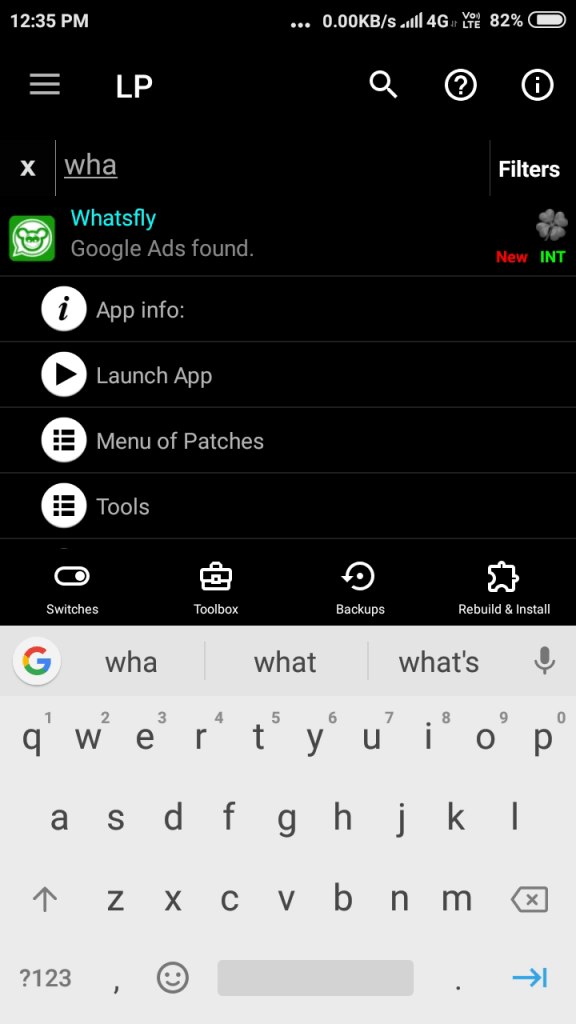 click on the menu of patches and create a modified apk file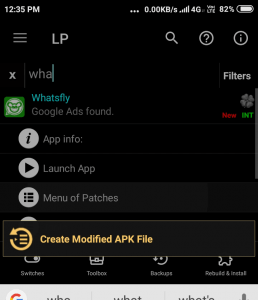 it will show you a list. For Removing ads click on the APK without Google ads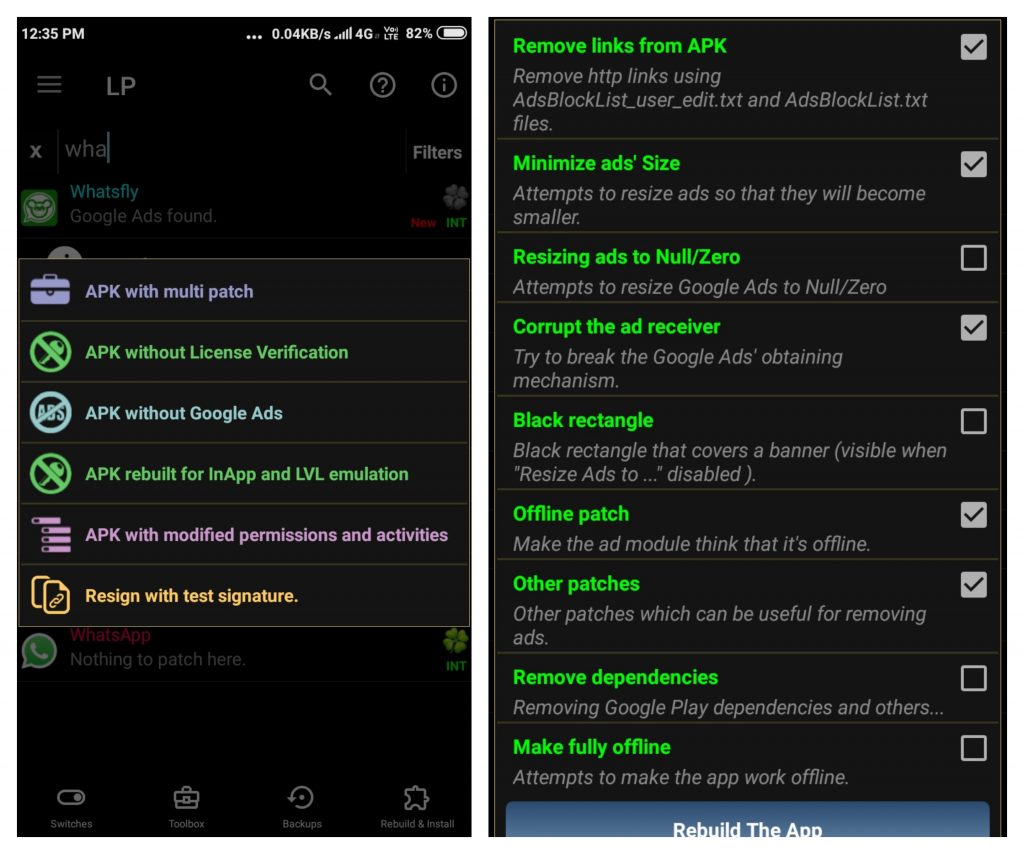 Choose the same step that I have chosen and click on the Rebuild The App
It will start the process & make 2-3 minutes time also depends upon app size and your phone RAM & Processor.
When the process is complete it will show you something like this
Tap on the Go to file
It will open a menu of a couple of options. you have to choose ReInstall Button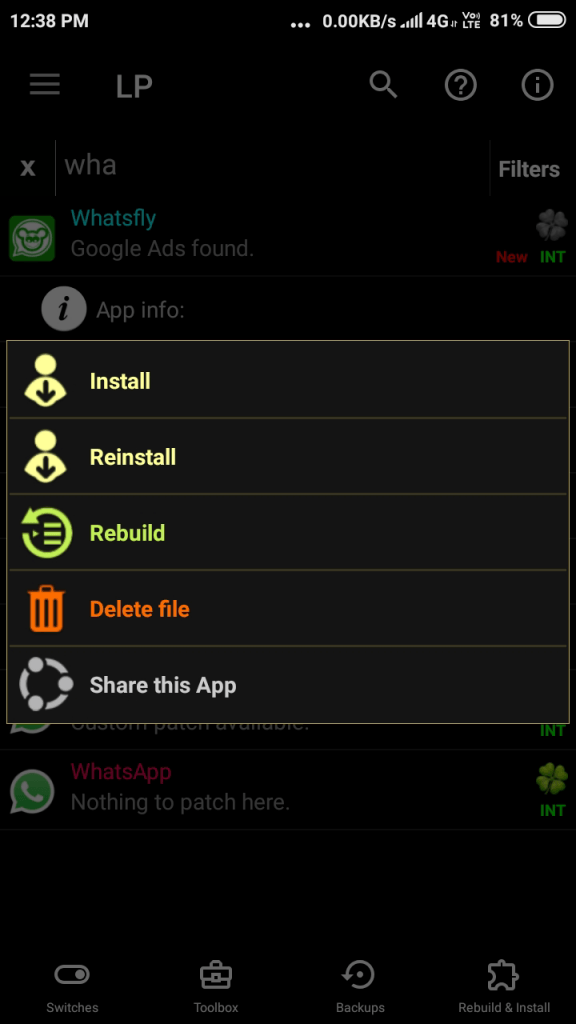 Basically, it will uninstall original apk and install modified apk on your phone. So it will uninstall popup first and then install modified apk as you can see in the screenshot.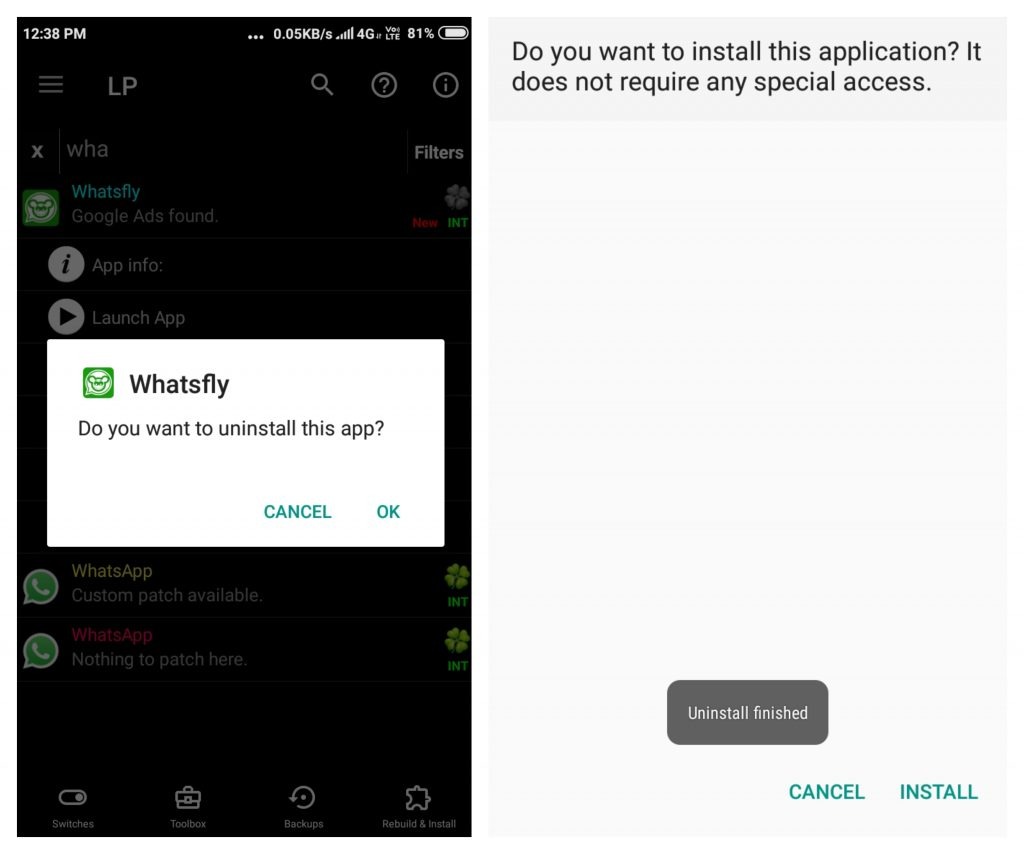 open the app again as you can there is no ads now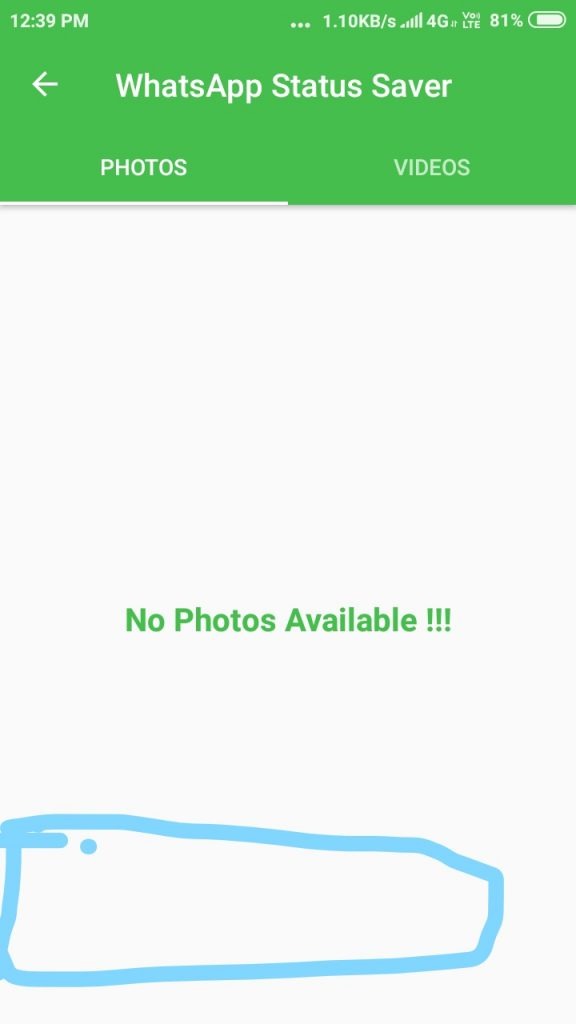 Ludo Master Tutorial
This is a very famous android game. So I have selected this. This tutorial is about bypassing app in the purchase. You can download original apk here
First, you need to install the original apk from the play store.  When the installation is done launch lucky patcher app and find the ludo master then Click on the menu of patches and then create modified apk
Last time we have selected App without Google Ads Now this time click on apk rebuilt for inApp and LVL emulation
Select the second point and click on the ReBuild the app. It will take a couple of seconds.
When the process is complete a new popup will appear. Tap on Go to File and then select ReInstall button.
It will delete original apk and install moded apk. So make sure you help in clicking the uninstall button and install button.
Launch the app. Tap on the coin at the top of the screen
Select any deal that you like. Chose any option and select yes
You will see you get successfully coin without Spending Money
If you face ads the chose no ads subscription. It will remove ads successfully.
Frequently Asked Question (FAQ)
How actually LP works?
well, this app reverse engineer original apk then change content using the androidmanifest.xml file. It removes the container in which Google ads are shown. Sometimes it also contents of the dex file
How lucky patcher makes money?
The person behind this does not make money from ads but he is making money from his website where he runs ads. His traffic is almost 5.5 million per month. the estimate he is making nearly $10000
is it available for IOS?
No, and I have found that the team does not have any plan for release app for IOS
Will it work for all games?
According to team new popular games has own server. So you can't hack that games
Is it legal to use Lucky Patcher?
NO, not at all. I already told you that it decreases developer revenue so if you are appreciated their hard work they don't use this app
Why it is not available in the play store?
Because it is illegal to use this app
For what purpose this is made?
This is made just for hobby These are the lines of its founder
What Is Custom Patch In Lucky Patcher?
It is a unique way to patch a game or app. For some advanced apps, you need a custom patch
what is the name of the founder of this app?
Chelplus is the founder of this app and he is from Russia. The official website is managed By his friend Mahmudul Hasan from 2016.
Conclusion
I hope you like this article about lucky patcher. This app is from a very long time in the market. Generally, I have found that apps stop working with time but this still working. what is your view of point about this? The user can share problems or feedback by the comment box.
Other articles you may like
Showbox apk: A Movie streaming apk
KingRoot: Root your phone with one click