Games just made only for one purpose that is entertainment. Gaming industry now worth more than 100 billion dollars.
Two decade ago people do not play games on the computer, phones, etc. There is a gaming console. Not a big one but some small portable size gaming console.
GBA which is also known as the game boy advance is one of them.
If you are 90 kid then you definitely know about this device. Did you miss those days? Nobody can bring those days back but you can play those games on your modern devices like your android phone.
To play GBA games you need an emulator. Basically, it is a software which will help you to play games that your device does not support by default. One of the most popular GBA emulators is My Boy.
But it's paid. Here you can download paid app free of cost.
| App Name | My Boy! |
| --- | --- |
| App Size | 2.4 Mb |
| Developer | Fast Emulator |
| Downloads | 1000000+ |
| Version | 1.8.0 |
Installation and How TO Play GBA Games
Installation is easy. Make sure you have permission to install apps from an unknown source. Just follow give steps.

After downloading it open it. If this app does not app permission to install from an unknown source then you will something like this. As shown in the screenshot Click on the settings and enable permission
Go back and click on Install at the bottom. It will start the installation process

Installation is finished. You need a Game Rom file
I using super Mario 4. You can use anyone process is the same. No matter from where you download gaming rom. It is always in the zip folder.
Make sure to extract it and remember the path.  I have created a separated folder
After that Open My Boy!. It will ask you for permission for Photo, Media and files. Make sure you allow all of them. Because it needs to access games. On granting permission You need to locate Game Path. As you can see in the screenshot I located the game. Make sure your game extension should be .gba. Otherwise, you will be unable to play.
On tapping, the game name will start your game. It will also show you control at the bottom but I will suggest you rotate the device. This way your game will on full screen, more space in controls.
You have forgotten all the buttons functions. It will take some time to understand it. There is a 3 dot menu. Using this menu you can fast forward, save game, close, Apply cheat codes, etc.
Best Games that you Play in Free Time
So you have an emulator and you know how to play games. Most of you already know where you can download these games and what are some Best GBA games.
If you don't know No worry I have created a list of best games with the download link
Pokemon Games:  Pokemon is the Most selling game of GBA. There are so many pokemon games but the concept is the same. In the main screen which is overworld, the player navigates to the protagonist. Player. From the Menu, interface player may access and configure pokemon, items, and game settings.
When the Player encounters the wild pokemon or is challenged by someone, the Main screen turns into a battle screen. Every pokemon has limited Hitpoint.  So the player job turns Hit point limit to zero before that pokemon turn your pokemon power into zero. These are the best pokemon games.
Super Mario: Super Mario is my favorite character. Mario has huge success in portable gaming consoles. Mario has a game about every category like adventure, racing, sports, etc. Here are some best Mario Games.
Spider-Man games: Last Sunday I go to the cinema to watch spiderman far from home. spider-Man 1 Movie is released in 2002. Same year games made for GBA.
Games are like real life. You have to fight with gangsters, rescue innocent peoples. Your weapon is your spider web, punches, and kicks.  Here are the Best Spider-Man games.
Free vs Paid
My Boy emulator has both free and paid version. A common question is which is better for me or what are features of the paid version that free version doesn't have.
Here is the main difference between the Free and Paid version.
Note: Free Version is Removed from the play store But if you are using the free app then check the table to know the difference between both version.
| Free | Paid |
| --- | --- |
| Contain Ads | Doesn't Contain Ads |
| Fast Forward upto 2x | Fast Forward upto 16x |
| Doesn't Sync | Sync is possible Using Google Drive |
| Saved Games can't Continue on Other device | Saved games on the device can be continued on others |
| You can't Save Game at any Moment | You can Save Game at any Moment |
My Boy Apk Advanced Settings For Pro Player
If you are just a beginner then you leave this section But if you want to customize it like other games controls then you should read it.
It will help you to become a pro player of any GBA games. In the end, it depends upon you but these settings will help you.
Click on the Cloud icon from the top bar. Here are some settings that you need to change
Auto save & Load: Generally I will one game continuously until I did not complete it. So Autosave & load save time for me.
Fast Forward Speed: In the starting of every game there is a story. Sometimes it is very time consuming especially in pokemon. But with the help of fast forward, you bypass it.
Max speed is upto 16x.
Confirm on Close/Reset: For me, it seems useless. By default, it is turn on So I turn it off.
Now Open Settings from 3 dot menu as shown in the screenshot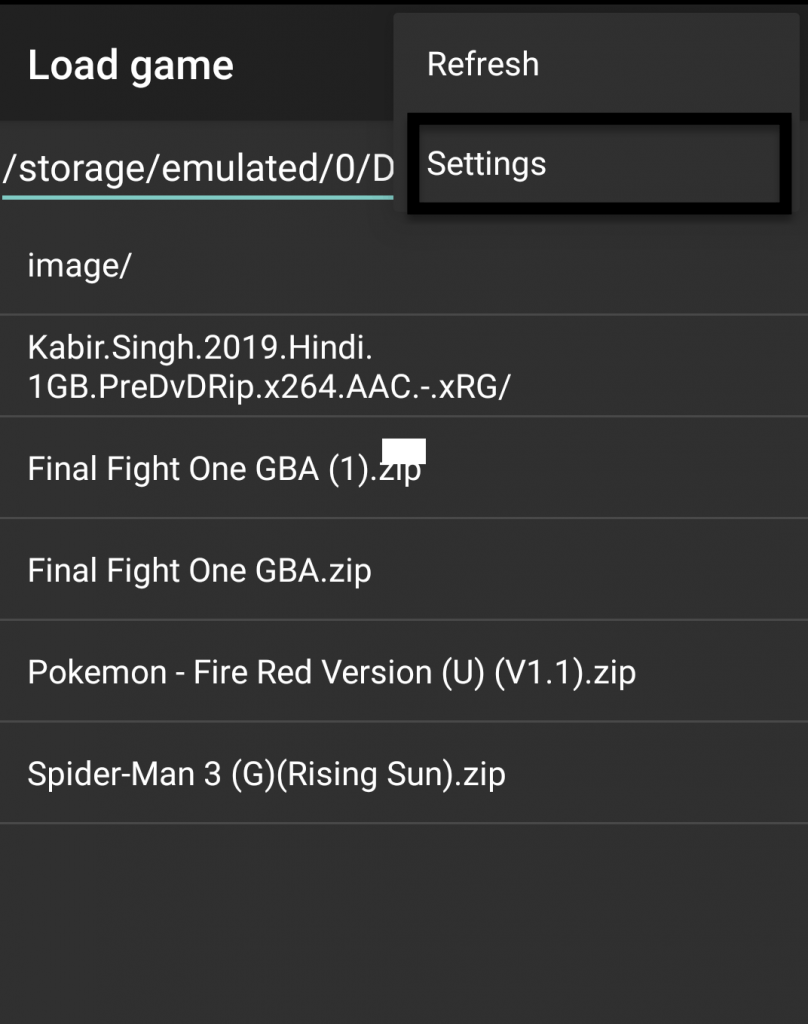 Video Settings
Make sure you Tick the Stretch to fit Screen. It makes Game on Fullscreen.
In screen Orientation select Landspace. Although by default it is auto-rotate for me, Landscape is better.
Screen Size (optional): Default screen is in the center but for any reason if you customize you can do with the help of Screen Size.
Controls position and Size can be customized too using.
Input
This section is mainly about controls. From Virtual keypad, Settings make sure you tick vibrate on touch. Controls Layout can be customized from Virtual keypad Settings too.
Key mappings: Although Game will be played through given controls shortcuts can be created using key mappings.
For Example Fast forward. I have setup with Volume Up button as you can view screenshot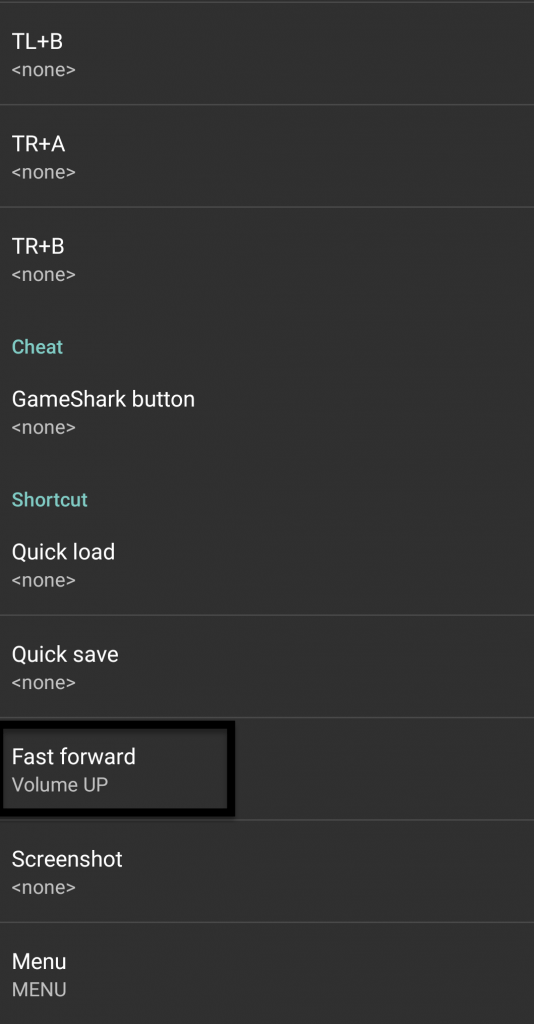 To do this just tap on Fast Forward and then press a key from where you want to control it.
Layout
You have already check customization settings. But in layout user can create own profile with custom screen and controls settings. It can be helpful if their multiple people play GBA games on the same device or different settings for different games.
Overall Rating
I will give it 5 out of 5 ratings. But when you play games too long you will feel a little bit pain in your fingers. off curse this is not due to my boy apk but this is due to your phone shape.
Or in other words, it is the limitation of using GBA emulators.
On my boy, you will find all the options like saving game, fast forward, applying cheats, etc. I did not find any ads in the current version but the previous version has ads.
Alternative Options if you don't like My boy
I'm currently using My boy. In the end, there is no big difference between all emulators. All work in the same function. But if you are looking for an alternative then you can try these alternatives options
John GBA is the biggest alternative of My boy. Its the plus point is that it is available in the google play store. But you will face ads.
You can Go with Full version if you want to remove ads. But ads are not annoying.
There are some shortcuts on the screen which are available inside the 3 dot menu in my boy apk like save, fast forward. It does not work with older devices like blow android 4.1 version phones.
This is the name of apk. One of the main advantages of this app is that it will automatically fetch the data. No need to type path. It will scan the whole phone shows All games inside the emulator.
No need for any external storage. Like John, it also makes money from ads. But you will view ads on Every Transition meaning when you go from one page to another page.
It is an average emulator. While playing games there is a little ad at the top. Due to this, you can't see the game on the full screen as shown in the screenshot.
There are no settings for customization just play the game.
Frequently Asked Question
Is it safe?
Yes, it safe to use.
Why free version is removed from the play store?
Generally, apps Removed due to Violaty Policy.
The Download Link is Free Version or Paid?
Paid Version.
Is it available for Pc
My Boy is not available For Pc But You can try other emulators like Visual Boy advance, retroarch for Computer
Conclusion
Play old games is always fun. Some games can't be replaced by the like super Mario. Only that type of GBA Emulator can help you play these games.
Hope I give you full information about my boy apk. I suppose you have downloaded and start playing games.