Tracking Android phone is not an easy task. Maybe some of you think this is impossible to track an android phone without the help of police. But it isn't. In this article, I will teach you how to track the Android phone just from your mobile or computer.
These are the best way to track any android phone.  I have divided into two categories
Using phone
Using computer
You will find many ways to track the android phone in these categories.  I know for some people it is difficult to afford a laptop so try the first category.
Using sim card: well if you have the mobile number then you can only find country, state information without contacting sim card company or police. There are many websites that provide information about the sim card like http://www.indiatrace.com/trace-mobile-number-location/trace-mobile-number.php
Just go to the website and enter your mobile number and click on Trace button.
Here is the screenshot of my sim card information

1.By using your Phone
A. Tracking by IP addressing:
Hey guys in this method I have shown You, How You Can Easily Track or Trace anyone's Location by his/her Mobile number without touching Phone.
This is the easiest and the best way to track someone's Location. You will find 100% correct location using this way.
Go to the website iplogger
Here click on The setting icon and then choose to sign up.
 After Sign up  Login into your account then you will see something like this.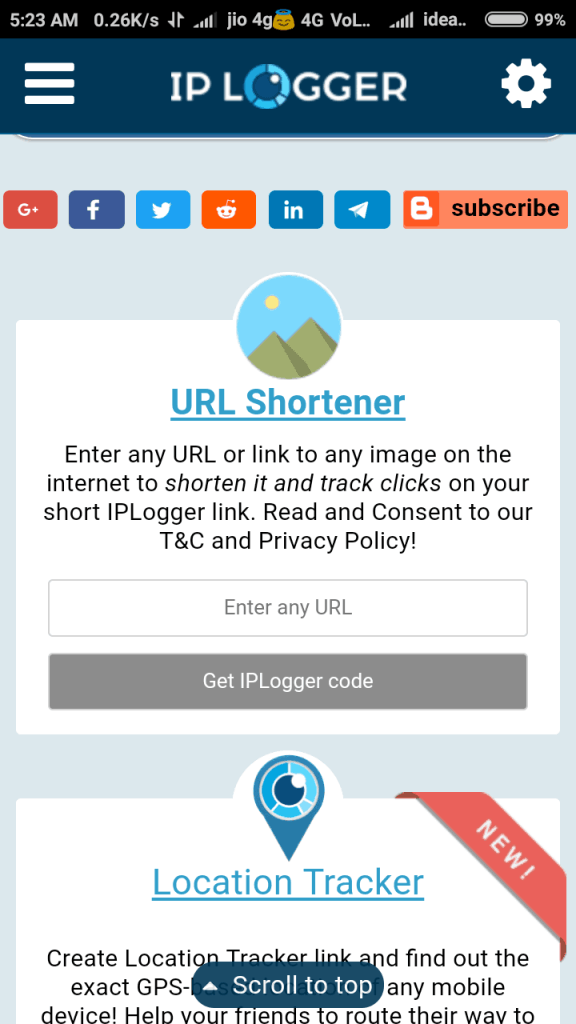 Scroll down and under the URL short type any website link, image link, video link in which your Victim will be interested.
Tip: From Google, you can find thousands of imaging images, videos, and other exciting things, etc.
You need to copy the link of that image, video file or anything chosen by you and paste it not input field that is under the URL short and click on Get IP logger code Button

When you click on it will redirect you to page like this.Now click on copy button as shown by the arrow in front of Google short URL.
You have created successfully IP address copying link. Now you just need to send it your victim. You can send it over the Facebook, WhatsApp, etc.
It depends upon your victim and how you are connected to your victim.When your victim will open the link IP address will be saved into iplogger, and that person will be redirected to the image, video that you chose in 4 step
Follow these steps to find saved Ip address.
Log in to your account in iplogger and from 3 toggle menu you can view the Last logger click on it as shown by the arrow.
It will redirect you to page like this.
So by this method, you got the IP address of your Victim. So it's straightforward to track someone's Location when you have an IP address.
IF you want more details using IP address the read furthermore go to the website https://www.iplocation.net/It is a website which used for finding the location of an IP address.
Scroll down, and under the IP Location finder enter IP address and click on the IP Lookup. As you can see I have entered Ip address; It is showing all the details of that particular IP address.
That is the first method of tracking android phone but you know it is difficult to find Ip address and Ip address depend upon the network used by the person. Don't worry I have another method for you.
Tracking By using the Mobile tracker
First you go to the website mobile tracker free and click on Register as shown in the screenshot and create your account.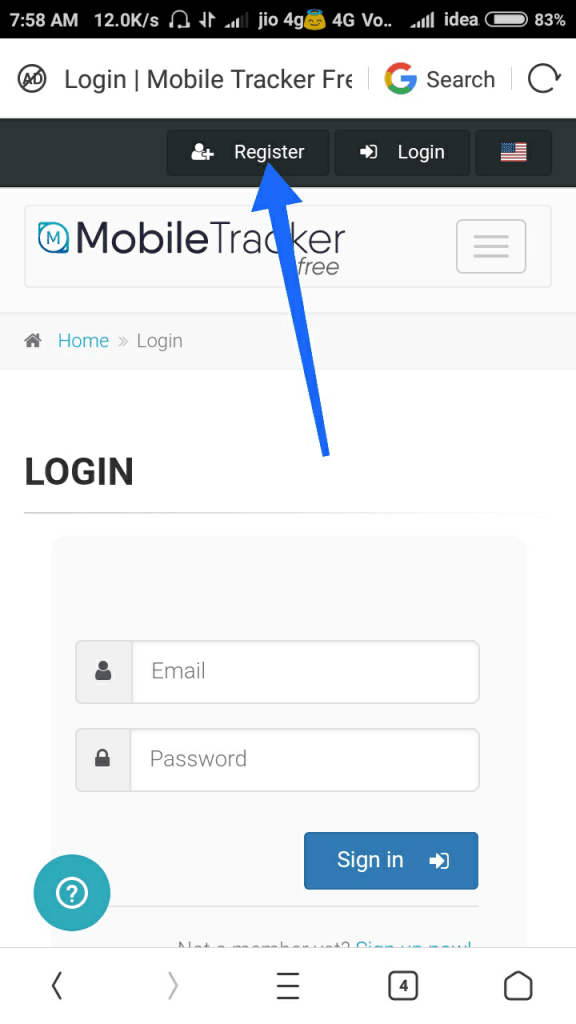 Login into your account. After login, you will see the page like this.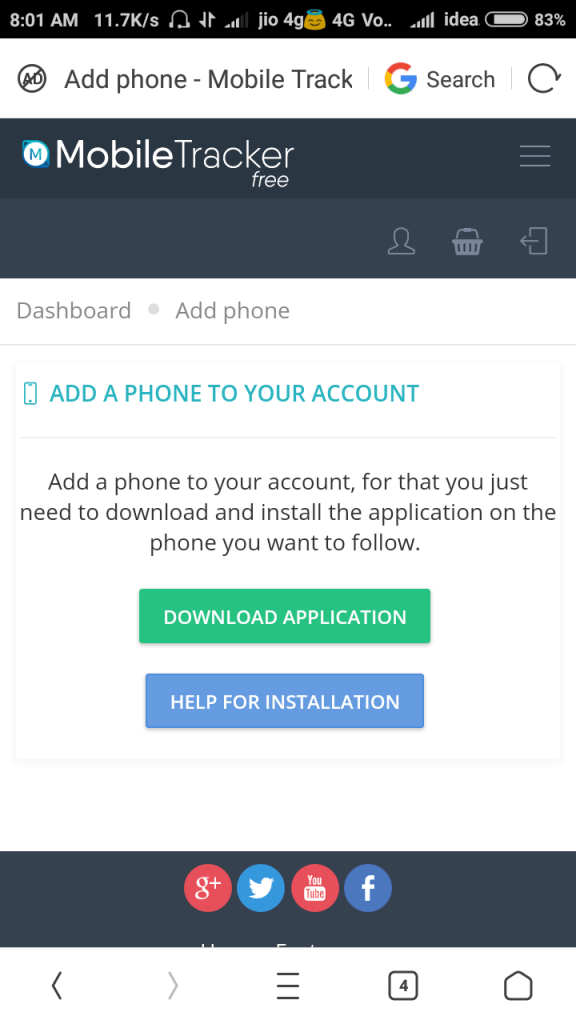 Now you need physical access to your victim phone. Pick his/her phone and log in your account in the free mobile tracker and click on Download Application.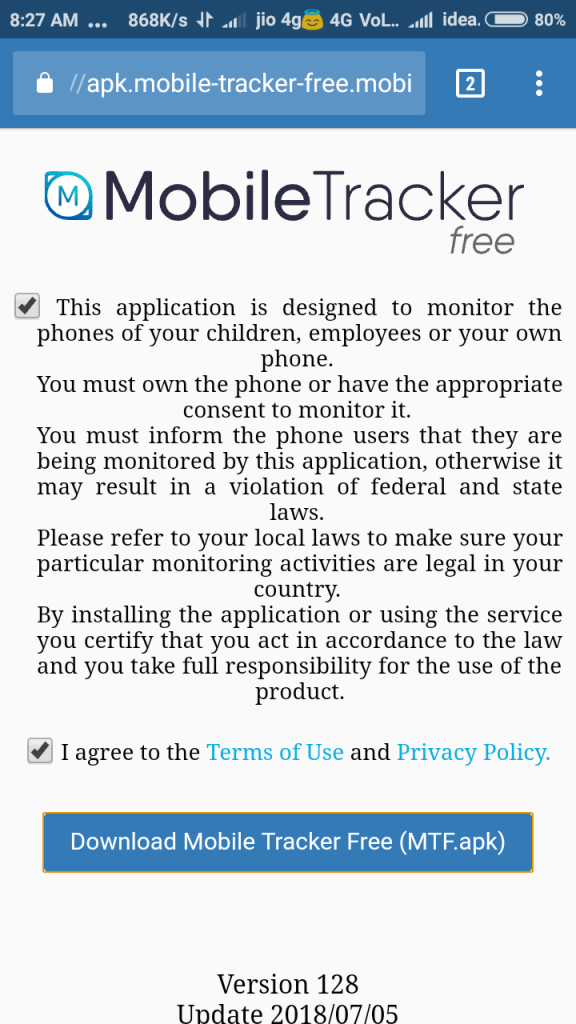 After downloading it install it as shown in the screenshot.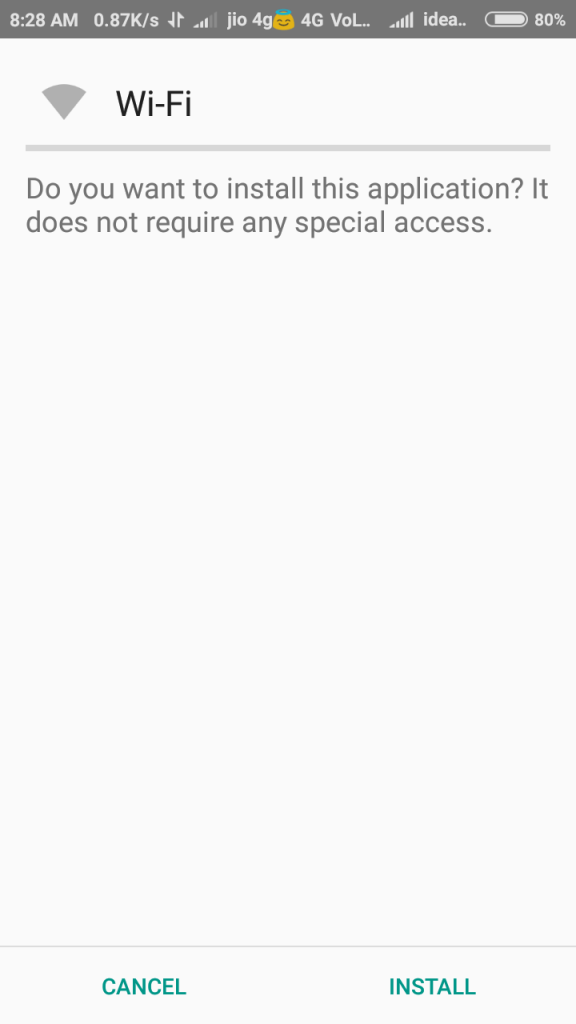 After installing it open it you will see a page like this.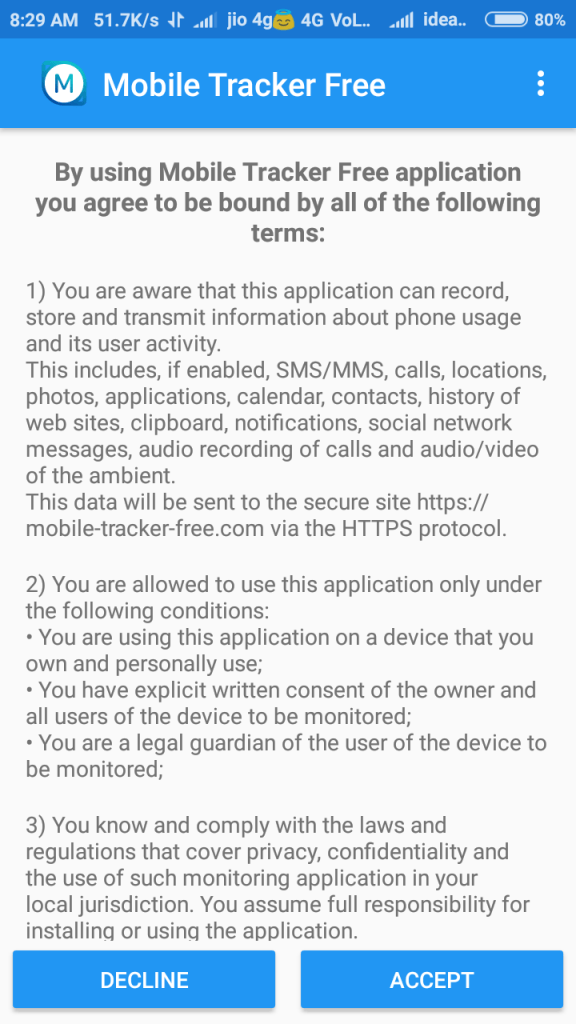 You can read terms & condition but who cares just click on Accept. After accepting it you need to log in your account that you have created in the first step.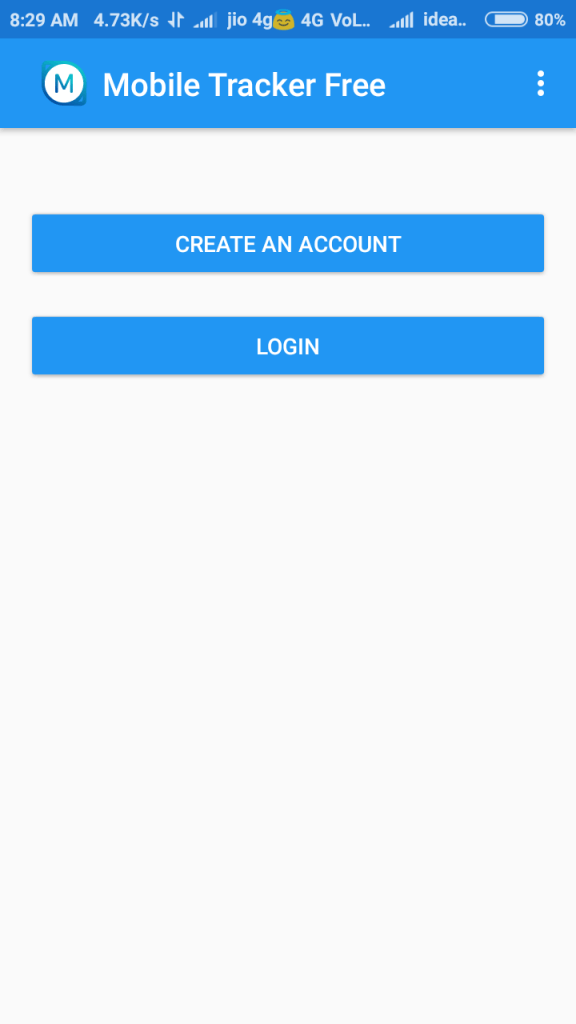 When you will successfully log in you see the page like this click on activate.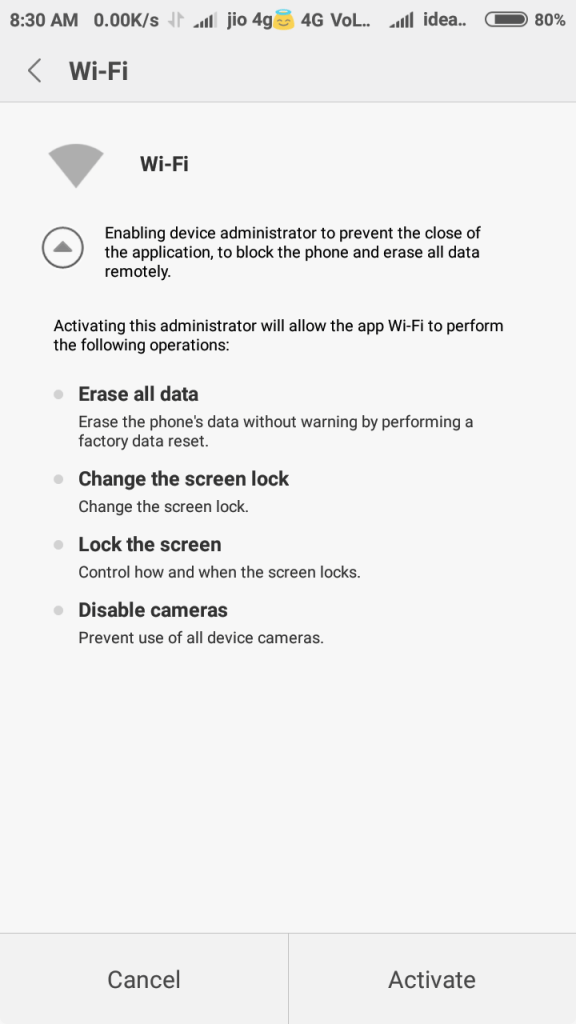 Next page is asking about user permission. I will advise you will disable app notification and turn on remaining.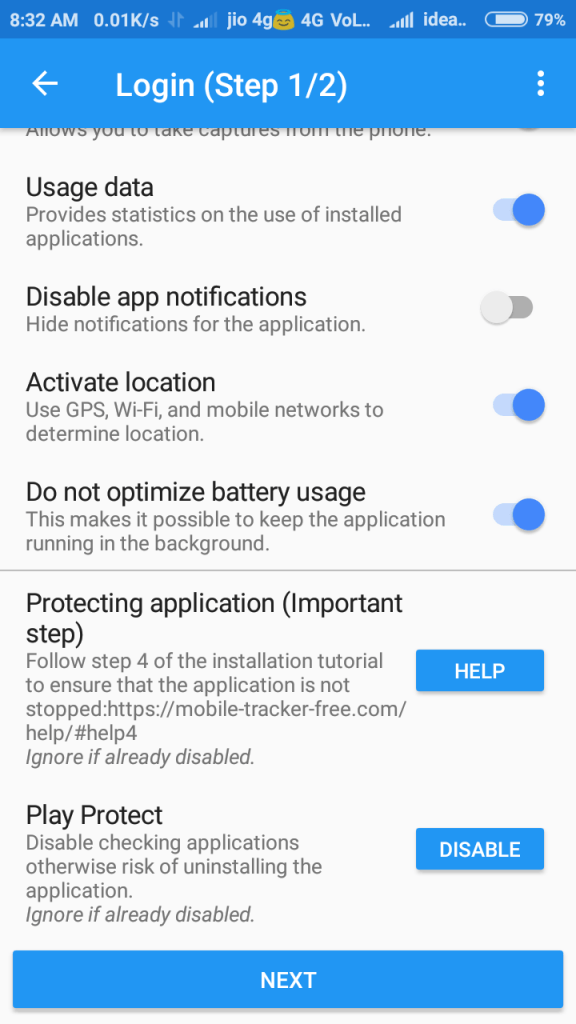 From this page select WiFi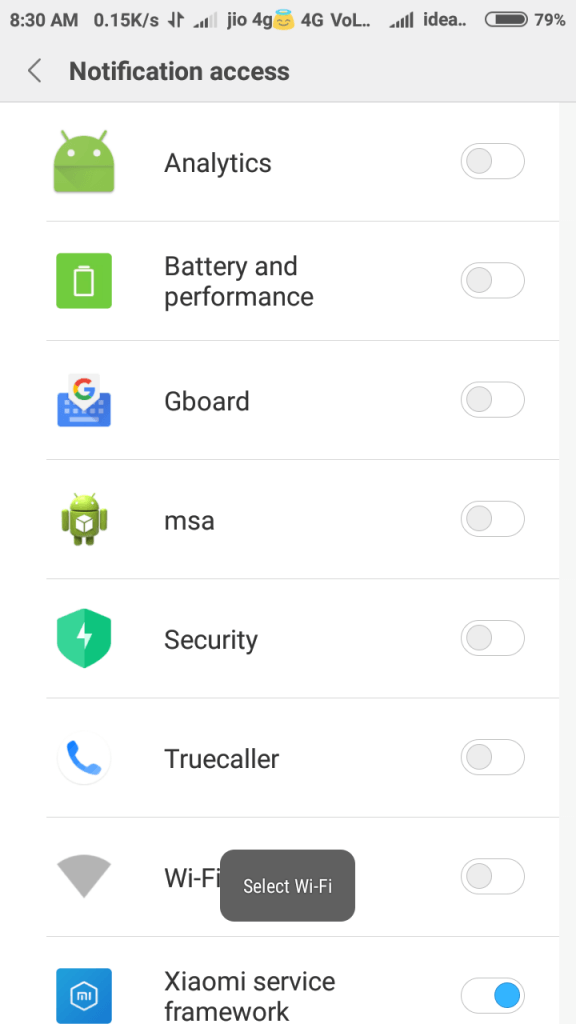 It will take you to Accessibility page again select wifi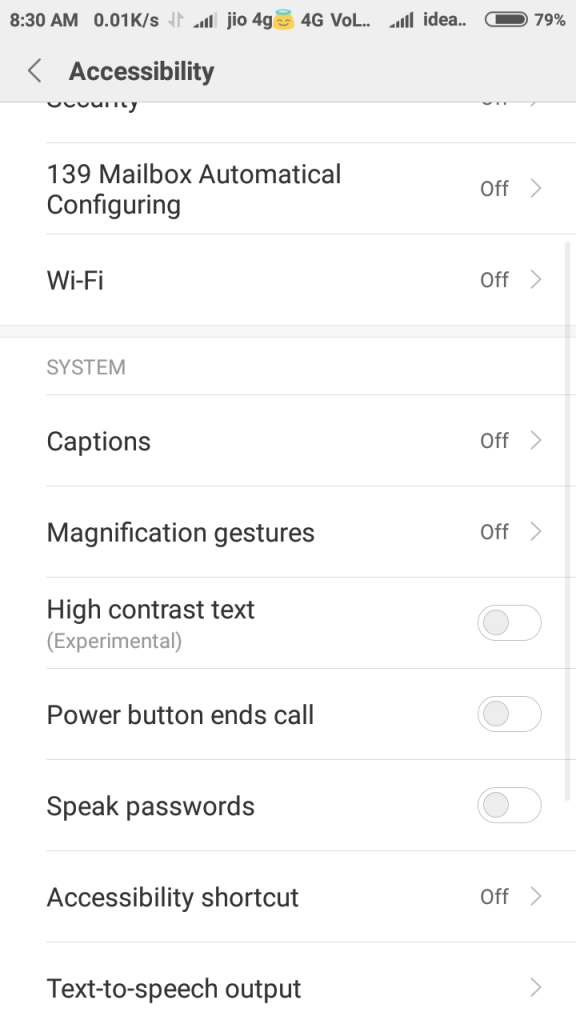 Turn it on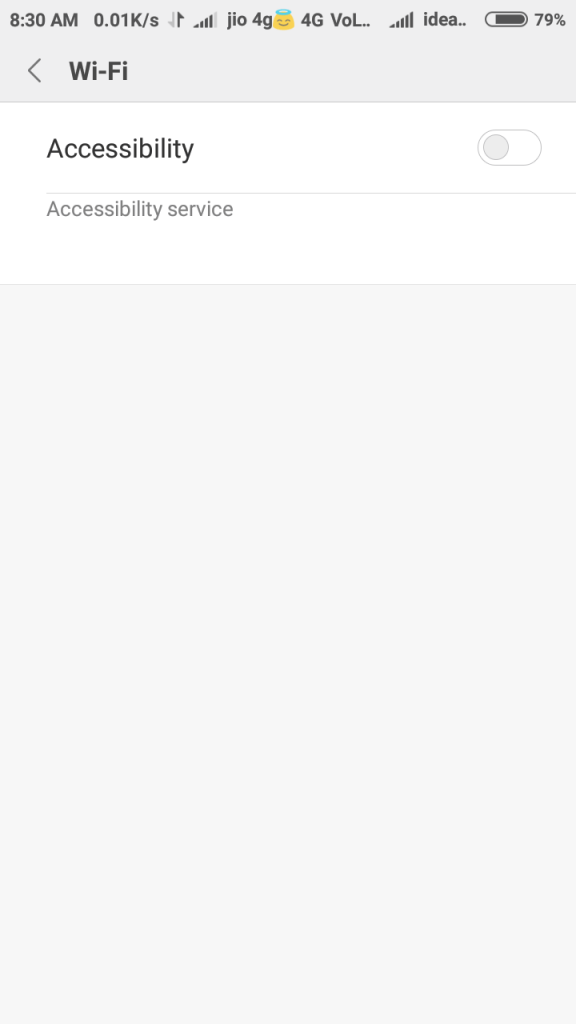 When you turn it on you will see the page like this.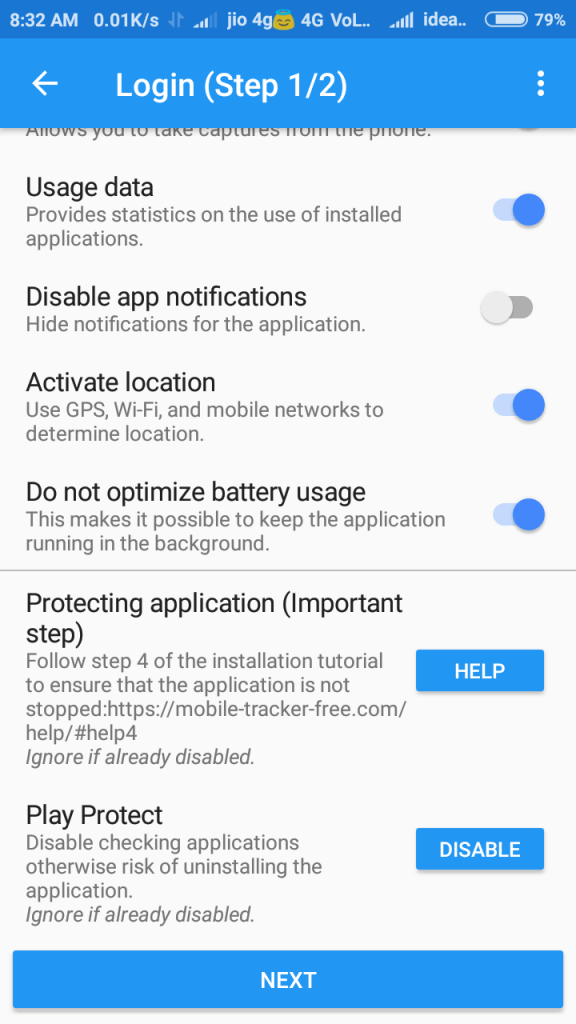 Click on Next and log in into your account.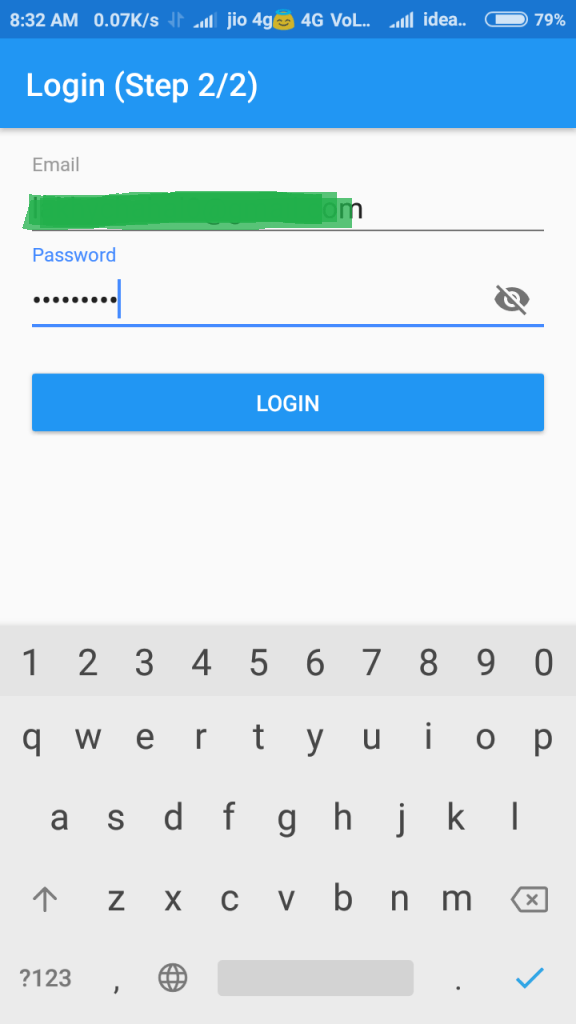 After successful login, you will page like this. You can not only track mobile but also take screenshot call records etc.  Make sure you keep on Localisation because this is service used to track mobile. Click on save button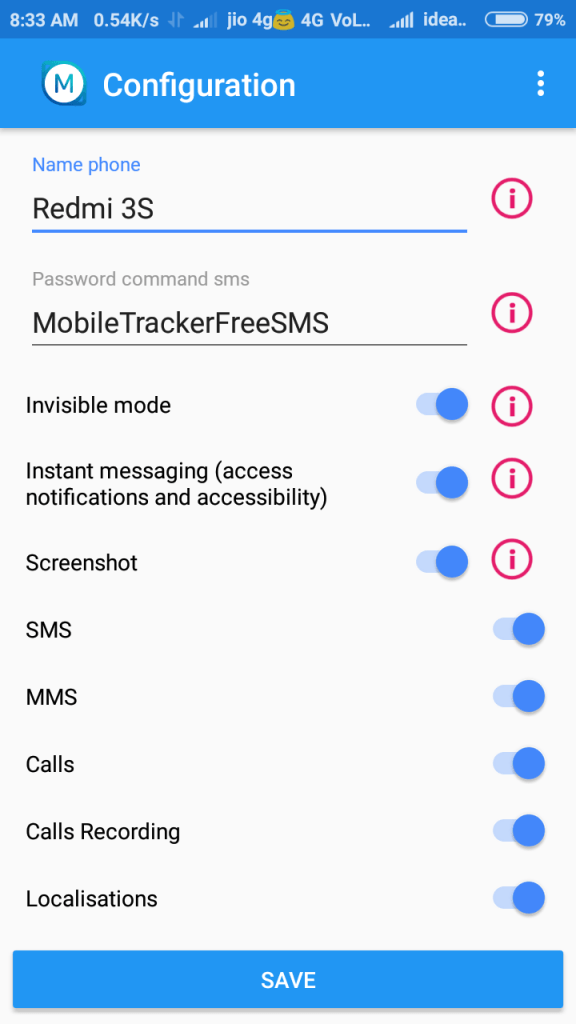 After click on save button, you will see a popup like this.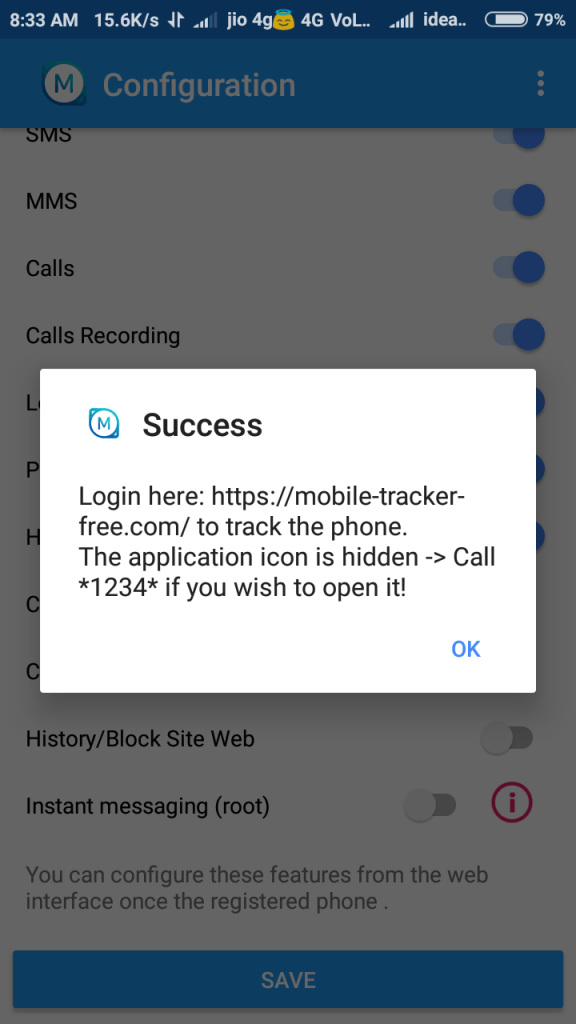 Now your 90% work is complete. So in this step, you have to go to on the website mobile tracker free on your phone and log in your account here is the dashboard of mobile track free.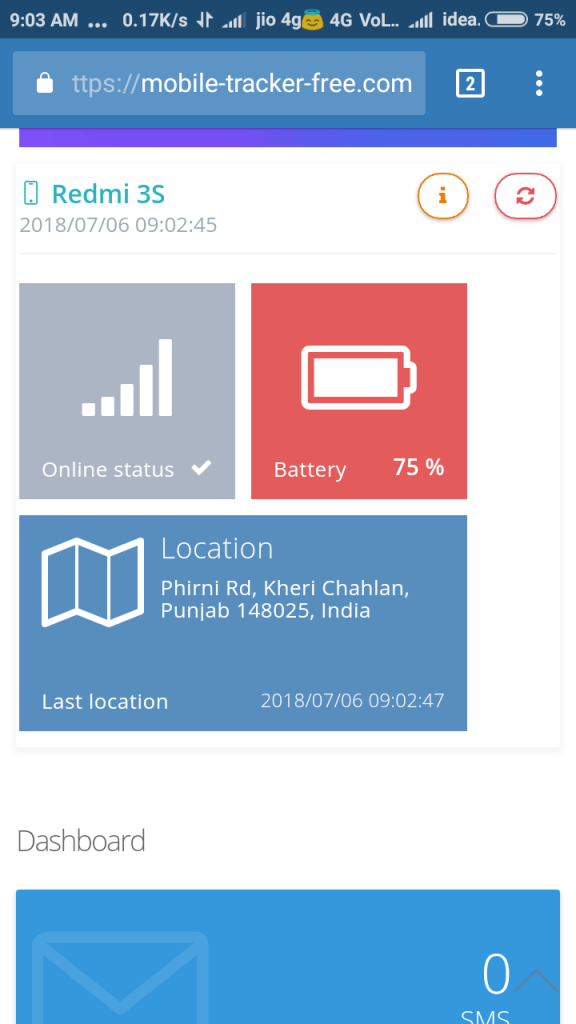 Scroll down you will get whole the information like the location of your Victim, battery status, WhatsApp messages, etc.
This method is free as how amazing it is.
By using your Pc
if you can afford pc, then try this method to track android phone
Track devices by Linux OS
First, install Kali Linux on your computer. If you don't know what is Kali Linux? Then read this article which is the perfect source for the beginner to know how to use Kali Linux. Turn on your computer and install Trity script
Trity is an advanced pentesting framework dedicated to everything from vulnerability testing to cryptography.
Trity can be used on cracking, brute forcing (Facebook Account), spoofing, information gathering, vulnerability testing, and also encoding.
How to install Trity
Open terminal.
Type this command and [press enter as shown in the screenshot.
git clone https://github.com/toxic-ig/Trity.git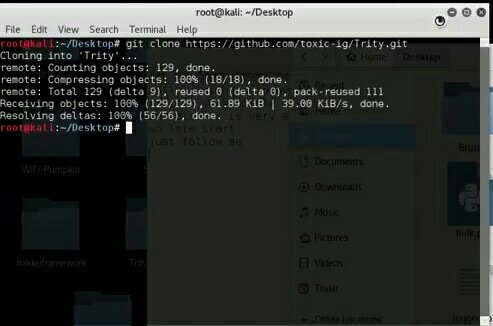 Read Linux commands for beginners 
As you can see in the screenshot, I have cloned script.  I have typed ls command, and there is new folder Trity-master as shown in the screenshot. Go this directory by typing the command
cd Trity-master
and then
ls
to see all folder and then
chmod +x  install.py;sudo python install.py
Note: ; is used to run two commands one after.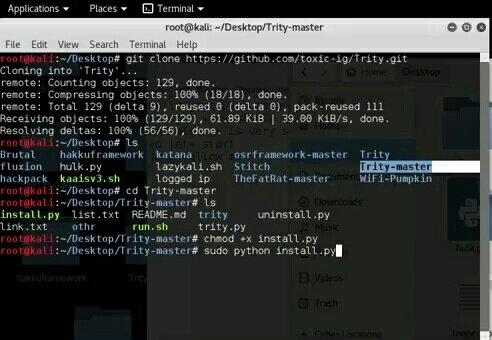 In the installation procedure, it will ask you to choose an operating system.  Just type 1 and hit enter.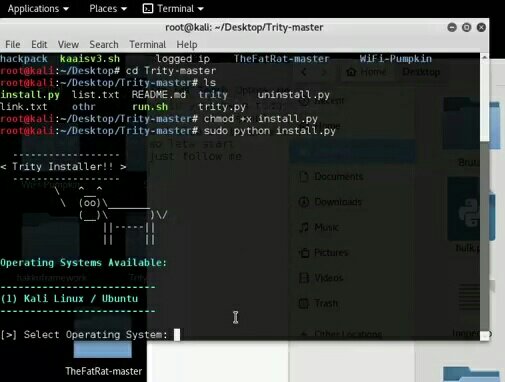 Now you can run this script just by typing trity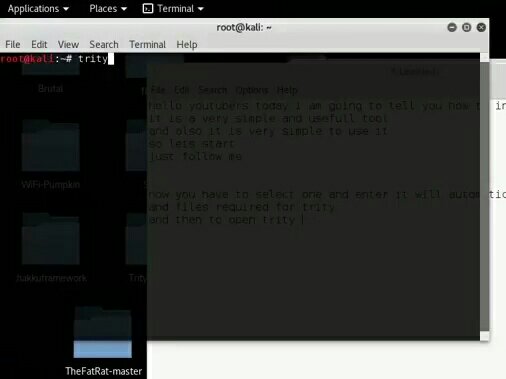 Here is the screenshot when you run trity script.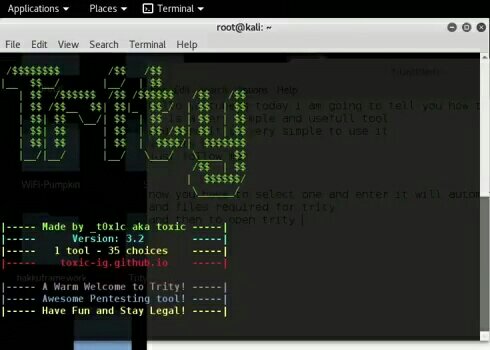 Now you learn how to use this script to trace locations of devices by their IP. Type help then you will page like this.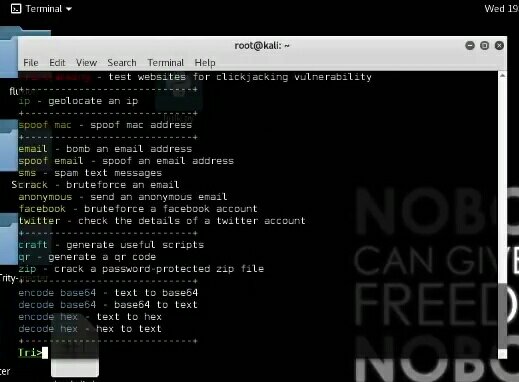 Just type your victim IP address and hit enter as shown in the screenshot.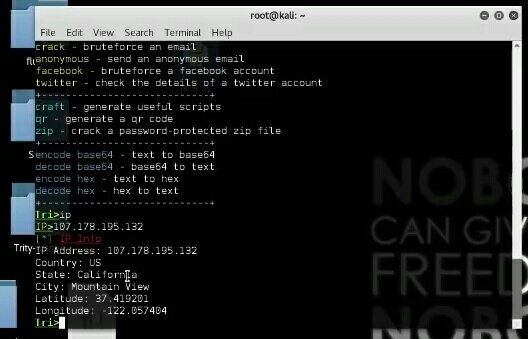 You will get your victims latitude and longitude and copy this and paste in the browser where you open google maps website, and you will get the exact location of your victim.
 By using command prompt And facebook in windows
Press "Windows + R" and you will see a Run dialogue box. Type CMD in Textbox And hit Enter.
Now minimize it.
Open Facebook in any browser and start chatting with that person to whom you want to track.
Wait for his/her reply.
When he/she replied you then open cmd and type this command in cmd.
 netstat -an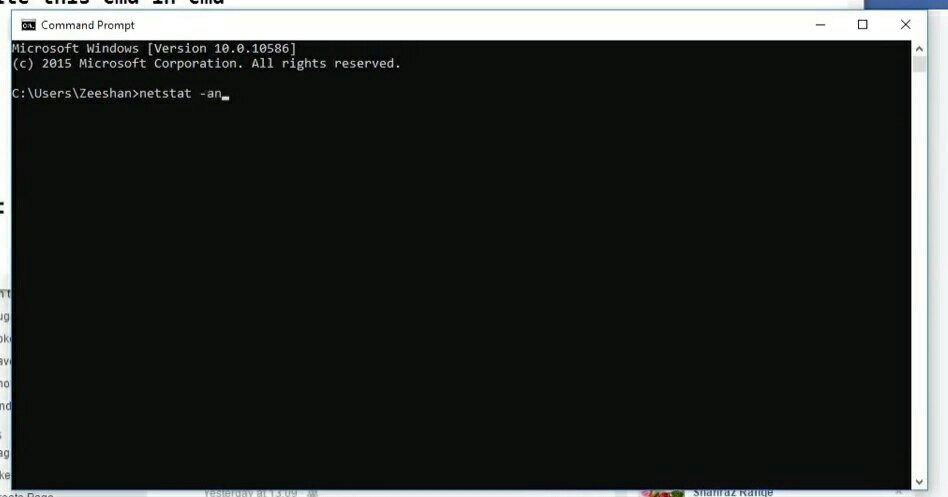 And hit enter button. You will see this lots of IP addresses.
And choose one of from Established Ip address.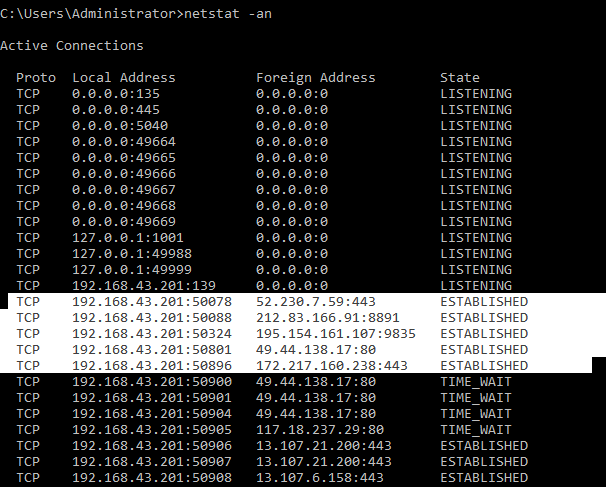 Now go to the website Iplocation and type that IP address and you will have got the exact location of your victim.
The methods that you should never try to track android phone
Find my device: well, you can track phone, but the problem is you need Gmail id and password for this purpose.
Location tracking by the call: It is used by police so forget about it.
Location tracking by IMEI Number: You can only find sim number using IMEI number, not location.
Conclusion
These are the best way to track android smart I hope you will like these methods. If you have any problem let me know by comments. I will be happy to help you.