Android is world's most useful operating system for mobile phones and tablets. More than 85% phones of the world are android.  That's why hacker (read: how to hack any wifi) use the smartphone to make money by making the virus. If your phone is affected by any kind of virus then you are at right place here I will guide you to how to remove the virus from android.
List of the android virus is very large but don't worry you can remove any type of virus by reading this post. Proxyserver, smsmanager, alarm controller, battery controller and wallpaper service are very famous in android virus available in accessibility settings.
But this is not the real name of this app. Real name of this trojan is ghost push which affects more than 65000 android phones. If you turn of this it will automatically turn on.
Top countries affected by ghost push

Also, read:
How is it installed on your phone?
According to cmcm.com there are more than 39 apps contain ghost push
WiFi Enhancer
PinkyGirls
WordLock
SettingService
Sex Cademy
TimeService
XVideo Codec Pack
Fast Booster
boom pig
iVideo
Indian Sexy Stories 2
Amazon
Talking Tom 3
WhatsWifi
Fruit Slots
Assistive Touch
Hubii News
Photo Clean
Hot Video
Wifi Speeder
Accurate Compass
itouch
Super Mario
Lemon Browser
WiFi FTP
All-star Fruit Slash
Light Browser
SmartFolder
Multifunction Flashlight
Ice Browser
Happy Fishing
XVideo
Simple Flashlight
Assistive Touch
PronClub
MonkeyTest
Memory Booster
Daily Racing
Hot Girls
Problem by malware: No matter which trojan your phone have but you will face these problems
keylogger:Keylogger means it records all text except password type by you. When you turn on this you will get a notification proxyserver can collect all of the text you type except passwords. This includes personal data such as credit card numbers. It also collects data about interactions with the phone. For e.x. smsmanager.

a notification turning on to porxyserver virus
Read: Best keylogger apps for an android phone [without root]
bloatware: It becomes bloatware means an inbuilt app like message, settings so you can't uninstall simply even you can't remove by resettings your phone. literally all
Some Other problems
Some apps are automatically downloaded and installed.
Mystery gift icon appeared on the screen and when you click on this gift a link will open.
Unwanted notification like this screenshot.
Here I am posting for both root and without rooted devices with root you can completely uninstall it but if you don't want to root your phone don't you can bypass problems from this app.
How to uninstall any virus
Here I am posting removing methods with and without root but if you want to remove this completely then I will suggest you to rooted device method although you can control it in a unrooted device but can't uninstall it.
For rooted devices
First of all Root your phone.
Install any bloatware removing app like System app safe remover app (link provided)
What is root: Android is operating system in which you have the ability to can change anything in your phone but by default these features are blocked by manufacturer. Process of unblocking these features is known as root
Rooting your phone means you can change anything in your android device like expanding ram, remove ads of apps, Can remove bloatware but on rooting the phone, it will void your warranty but don't worry you can unroot your phone after deleting this virus from your phone.
How to root your phone: Currently there is no app which can root all devices. Rooting process of different is different so search on google how to root your phone model (go to settings→about phone)
Last step:  Now install System app safe Remover from play store which is made for removing system apps, moving any app to SD card etc and open it on opening it there will a pop up open from SuperSu asking about root permission to give root permission click on grant (you can't use this app without root permission)
Select this virus and click on uninstall button when you uninstall any app it moves in recycle bin so uninstall from recycle bin too. You are confusing what is the name of this virus. I find many names of this virus given the blow
Alarm controller
Battery controller
Smsmanager
Proxyservics
wallpapaerservics
.com.system.update
system certificate
music provider
net alpha
 demo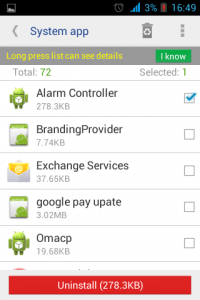 How to Stop reinstalling proxyserver, smsmanager, etc
some user complains that alarm controller, battery controller is automatic reinstalling because there is an app settings provider delete it too.
 Remove without root
If you do not want to root your phone for any reason then you can restrict data of malware. To restrict unwanted materials from this virus go settings→data usage and scroll down and disable data for the virus which you have. But I will prefer you to uninstall it completely by rooting your phone. If by default your smartphone don't have restrict data feature then use any firewall app like Noroot firewall.
Note: I have received many complaints this method is not working. so you have to root your phone.
If your phone have that kind of problem but this virus has the different name then please tell the latest name of this virus so I can provide better results for the user because all of the users searches on the internet How to remove smsmanager/alarm controller etc. Comment or use this contact form to tell the latest name.