Best video downloading app for Android is the best need of the hour.
There are so many good applications like Vidmate, Download Manager and AVD.
Many Android users wonder and look for the best video downloading an application that may directly download the videos from different social media sites (especially YouTube) and from some other video sites like Vimeo and daily motion.
Following is the complete detailed list of top apps that are much handy for direct downloading of the videos from the internet.
Some apps are available on Play store, but most of them are only available on the official site because Play store restricts the applications which allow YouTube video downloading.
Selected Video Downloader
Snaptube is My favorite video downloader application. There are Many alternatives but still, any app does not compete with snaptube. But you will not get this app in the Google Play store
Here are some Best Features
website support Facebook, Youtube, Instagram, and all other websites.
Whatsapp status saving Feature
Get Trending Videos without Opening Youtube
Convert Video Files into Audio Files
Download All Playlist Videos with one Click
If you are looking for a specific app for downloading videos from Youtube only then go with tubemate. Tubemate has a special feature for youtube.
Click when you copy Link It will automatically show download option you don't even Need to open tubemate.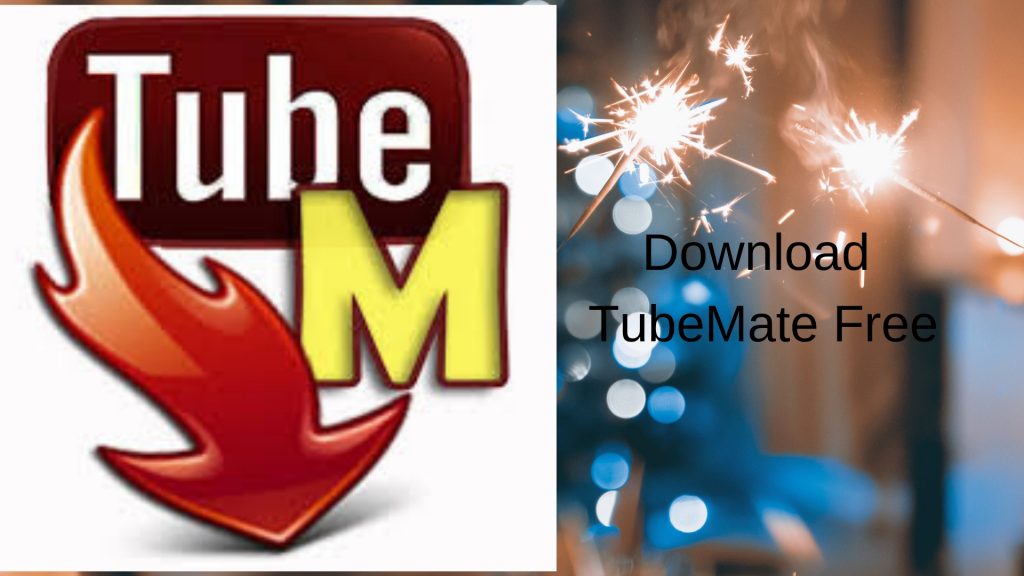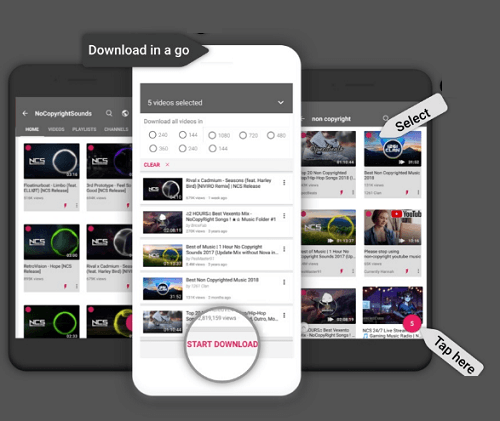 Videoder is very fascinating and user-friendly app when it comes to downloading the videos in android phone. You can easily stalk the desired videos and download it directly in your device.
An exciting prospect is that you can directly stream the videos within the app. You can easily browse, watch and download the selected videos from a single app.
One important thing to note down is that you cannot find it in the Play store; you have to download it from its official site. It's available in both free and premium editions.
Keepvid allows any android user to directly keep the favorite videos in their device anytime.
It has a much friendly interface; you can download the videos from multiple sites in high quality. If you want to download the audio version of the videos, then you can also do it by installing a plug-in.
All Other Video Downloading Apps For Android
First of all, let's list those downloading apps which can be directly downloaded from Play store
All video downloader provides you the full command regarding all kind of downloading. It has several built-in browsers which allow you to directly grab the videos, photos, and music online.
When the specific media file is grabbed, you can download it in the desired quality. It also has the resume download feature.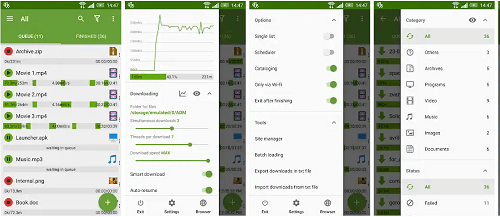 The advanced download manager is the fastest android downloader.
It directly downloads from the servers and browsers and uses the multithreading techniques to make the downloading speed up to 9 times higher. It can simultaneously download multiple files too


Free video downloader is quite popular among Android users. Although it is not compatible with YouTube and it does not have a catchy interface, but it has an edge with its capabilities.
It gives you the resume option in downloading. You can even download multiple files at once with FVD. Further, you can put private videos under coded security too.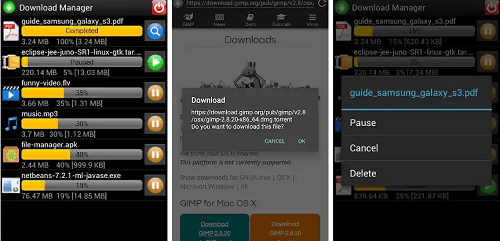 The download manager is one of the most common downloading applications in android. You can expect it from its name that it works as your virtual assistant to make any downloading task much easier.
It tracks all the downloading stats and gives you the ability to resume any interrupted or paused download.
Vidmate is quite popular when it comes to directly download the online videos in the Android phone. You can directly open and search your desired video within the app.
You can easily set the video quality and the downloading destination folder from the download settings.
Instube is yet again an exciting app that has the functionality of both Instagram and YouTube. You can easily watch, download and share the videos from the running application.
You can even bookmark your favorite links in this application, and you can hide any private videos too.
Yt3 summarizes the major function of YouTube to mp3 format conversion. It means you can even directly convert YouTube videos into mp3 without using any special plug-in.
When you play songs through this app, it also provides you with the lyrics. Isn't that amazing? You can also download mp4 videos from it, but it is only compatible with YouTube.
Newpipe is the open source video downloading platform. It is also compatible with Android. It is a lighter version of an online video portal where you can directly browse, watch movies and songs.
It has a much exciting feature that allows you to work with other applications without generating a pause on any running music in Newpipe.
Android video Downloader (AVD) is an exciting application that has much easy to use interface. It allows you to download any videos from various sites. You can even watch and download any flash videos with it.
It is free; you can quickly browse videos and download them within the app. It tracks the current downloading status. Unfortunately, it is not compatible with YouTube.
Media Tap is considered one of the most excellent downloading platforms for Android. As the name suggests, you can download any media file. You can download any type of photo, document, mp3 or video file using media tap.
Media clip pro gives you the most professional approach to having the desired videos anywhere at any time. You can download any kind of media like photos, videos, documents, and music.
You can save the streamed videos that can be available later in an offline mode too. You must try it because it has an easy interface which leads to faster browsing.
Multi-clip also has multiple options for downloading and streaming directly through the application. You can grab any kind of multimedia and download it for later.
It is just like a video grabber because it works for millions of websites. You just wish any particular downloading action, and it automates that action for you in just a few clicks.
Conclusion
I hope you will like this article if you have any query suggestion then let me know by comments. we will respond to your query
Other articles you may like
Best Youtuber downloader for all devices
Best photo Editing apps for android
Gb Instagram: Save Instagram photos/videos with one click
The Pirate Bay: Mirrors, proxy sites and another way to access to it