Microsoft window is the only choice for non-mac users. But there is only one limitation
It is paid.
Although Microsoft will give you a trial period of windows free, but you can't use settings like change colors, profile picture, and some extra customization.
If you are looking how to activate window 10 free or window 10 product keys, then you are on right place. I am not talking about paid way.
Also read
There are two ways to activate window 10.
Using CMD
Using officially activated version
Keep in Mind these ways will work on both 64 bit or 32-bit Machine.
You will face only one limitation after activating using this way that is Microsoft support.
You will not get any Microsoft support.
In this post, I will only show you how to activate window 10 that is already installed on the computer. If you have not installed window 10 then download and install the free version of the window only from the official site.
If you didn't buy a computer, then buy a Linux computer [it is cheaper] and read here about activation free of cost.
Using Cmd
In this way, you will not need any software just copy paste these three commands, and your window will be activated. Make sure you have working internet.
Let's start it
First of your need to know which window edition is you are using for selecting your key. Go to My PC→Properties and see which edition you are using In My case it is Home. So I will use Home product key. Here are all the product keys.
"Supported Editions" "Product Keys."
Home/Core TX9XD-98N7V-6WMQ6-BX7FG-H8Q99
Home/Core N 3KHY7-WNT83-DGQKR-F7HPR-844BM
Professional W269N-WFGWX-YVC9B-4J6C9-T83GX
Enterprise NPPR9-FWDCX-D2C8J-H872K-2YT43
Enterprise N DPH2V-TTNVB-4X9Q3-TJR4H-KHJW4
Education NW6C2-QMPVW-D7KKK-3GKT6-VCFB2
Enterprise 2015 LTSB WNMTR-4C88C-JK8YV-HQ7T2-76DF9
Enterprise 2016 LTSB N QFFDN-GRT3P-VKWWX-X7T3R-8B639
First of all, Run cmd as an administrator as shown in the screenshot. Admin permission should be granted because you are going to change your product key.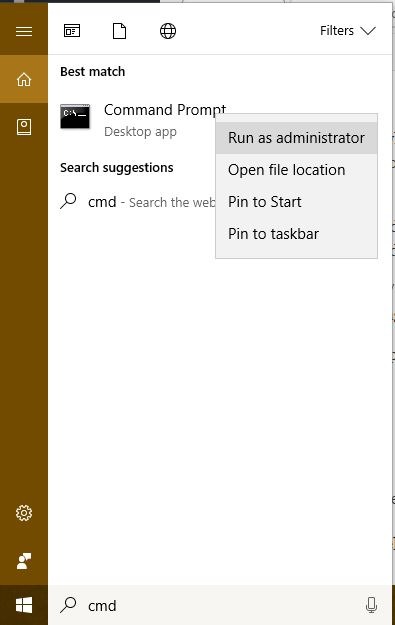 Now type cscript slmgr.vbs /ipk your window key. This will change product key of your system, but your window is still not genuine keep reading.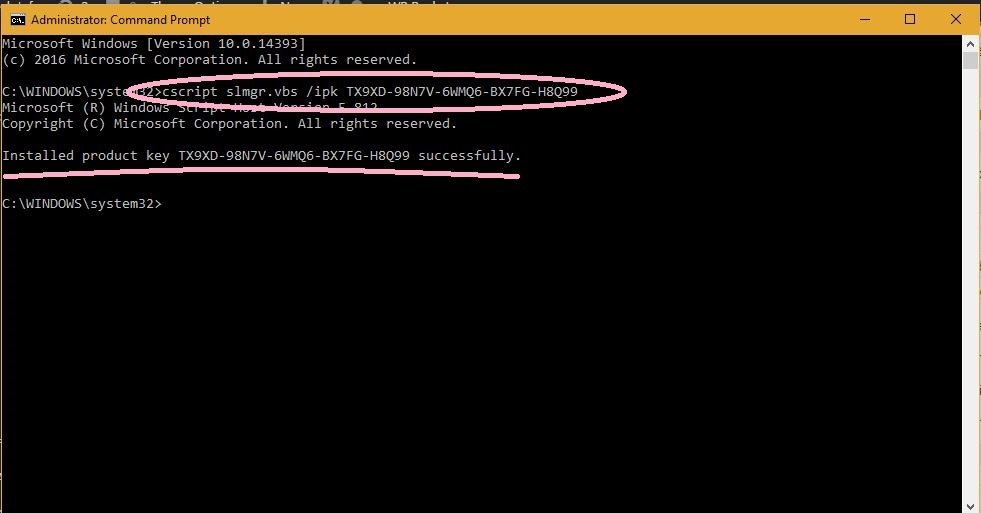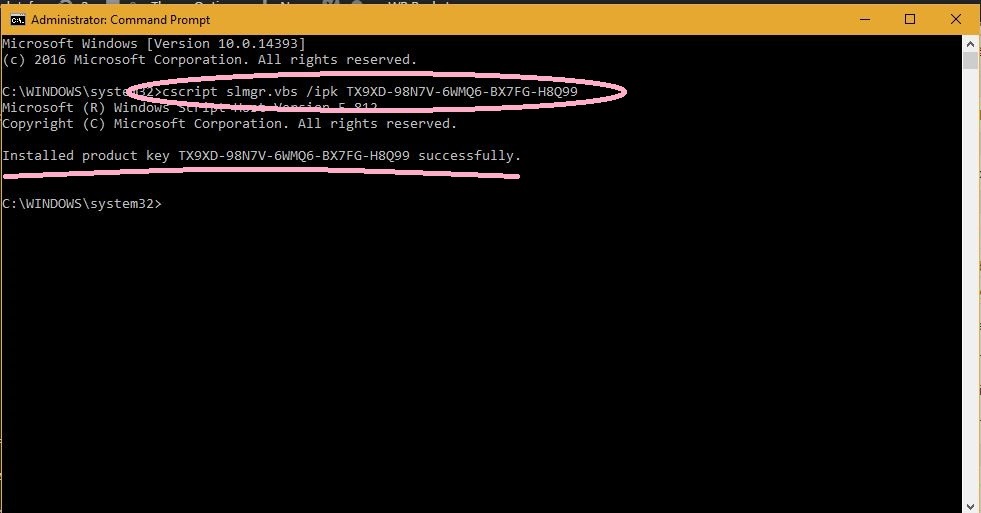 Your next command is cscript slmgr.vbs /skms 120.26.211.29 . This is server ip address through which your window will be activated. Don't worry you are safe.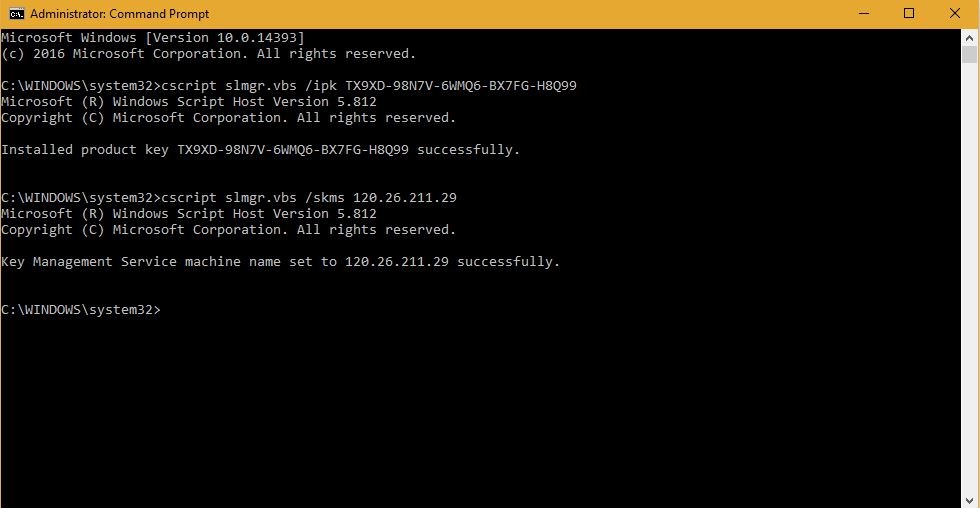 Last step
cscript slmgr.vbs /ato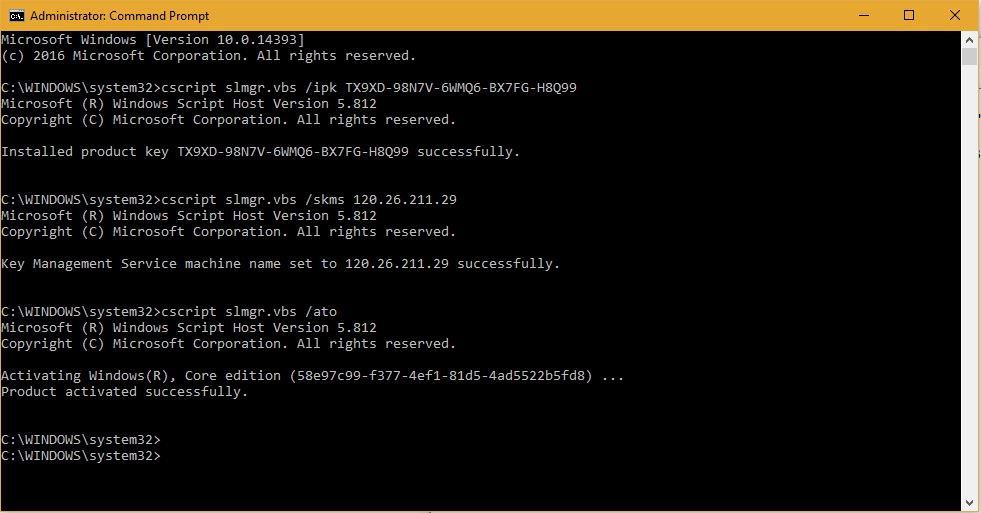 Now you have the genuine version of window. You can check it go to My  PC →Properties.
Proof
As appearing in the title, I use word proof added. This video which is also the source of this trick shows you.
Using Windows developers version
This is a special version where Microsoft test their updates on your computer. You can use it free of cost. For downloading go https://insider.windows.com/ to and download the free version and use free for lifetime. But you can face damages, crashes data losing because it is a beta version not stable. This program is known as windows insider program. 
It totally depends upon your which way you want to use.
Don't worry there is nothing wrong with this two ways. You will get everything premium without Microsoft support.
Ways that are not working
There are some ways that are not working, but some site owner is posted for getting traffic.
KMSPICO:  never download it from the internet because it contains the virus. I have tried it. My PC warn me not to install this, but I install it and then  I starting getting unknown apps downloading starting without my permission. So I reinstall my Window. Don't do it.
By updating Window 8: Today this is the way is also not working. Because this version also need activation. This way also consume 3-5 Gb data but in India jio daily limit is 1 GB.
Using keys: by sampling entering product keys you can't activate the window. Because Microsoft enrolls one key for only one PC, not for all guys. You can try all these keys present on the net or trust me who tried it and wasted his time.
If you are getting any problem then comment here, I will help you