So You are unable to Decide which is better for You.
Either you Should Buy window computer or Apple Mac OSX.
Don't Worry After Reading this article your all Douts will be clear Either you should buy window computer or Apple Mac Product.
If you looking for One Line Answer which is better then It depends.
It depends upon your Needs & your Lifestyle.
I think First You should know Why Most of the People People Buy Apple Products
And let me clear some other terms
iMac = desktop (without CPU)
Macbook= laptop
MacMini  = Cpu
Here is a list of comparsion segments which I'm gonna discuss in this article
Why I switched From Windows to Mac
1. Home Screen
Here is the screenshot of Both operating system.
Be Default On Mac OSX Files arrangement is Start from Right Side and in Windows, It is starting from Left Side.
No Doubt You can change position by Drag & Drop. Refresh in Mac is known as Clean Up.
Both Os Notification is opened from Left Side. In Apple, You can view stocks in Notification but Not This is only for stock marketing interested only.
OSX has a Menu Bar at the top which is has a fixed position. Items Menu items are automatically changing when depending upon which application you are using. Battery, Network settings are available in the Menu Bar.
While In windows You will View Menu inside the Application. Batter etc are at the bottom.
Winner: Tie
2. Control Panel vs System Preferences
So Settings is known Control Panel/System Preferences in Windows/OSX. On Windows, You can customize View of Settings.
But I think Mac OSX Settings is better because it is simple. Specially Network settings. OH My Goodness. I seriously hate window for this. Change Adapter settings blah blah blah.
Windows also has Settings which is comparable to System Preferences. Both are Good
But in Mac Search Settings to very advance from window search settings as you can this screenshot.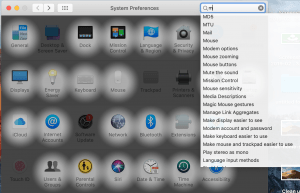 Winer: Mac
3. Finder vs File Explorer
Apple Mac OSx  file system is Tree Based.
While in Windows it is Partition based. I think Apple is not made for storing Files.
But for Browsing Finder is better. Like Browser You can Open Tab inside one window. Which makes Copy/paste function really easy.
And For Browsing Files I love it. I mean OSX. As you can see in the screenshot. It is a lot easier to browse Files. But by Default, it is Like windows. Don't worry you can change it with one click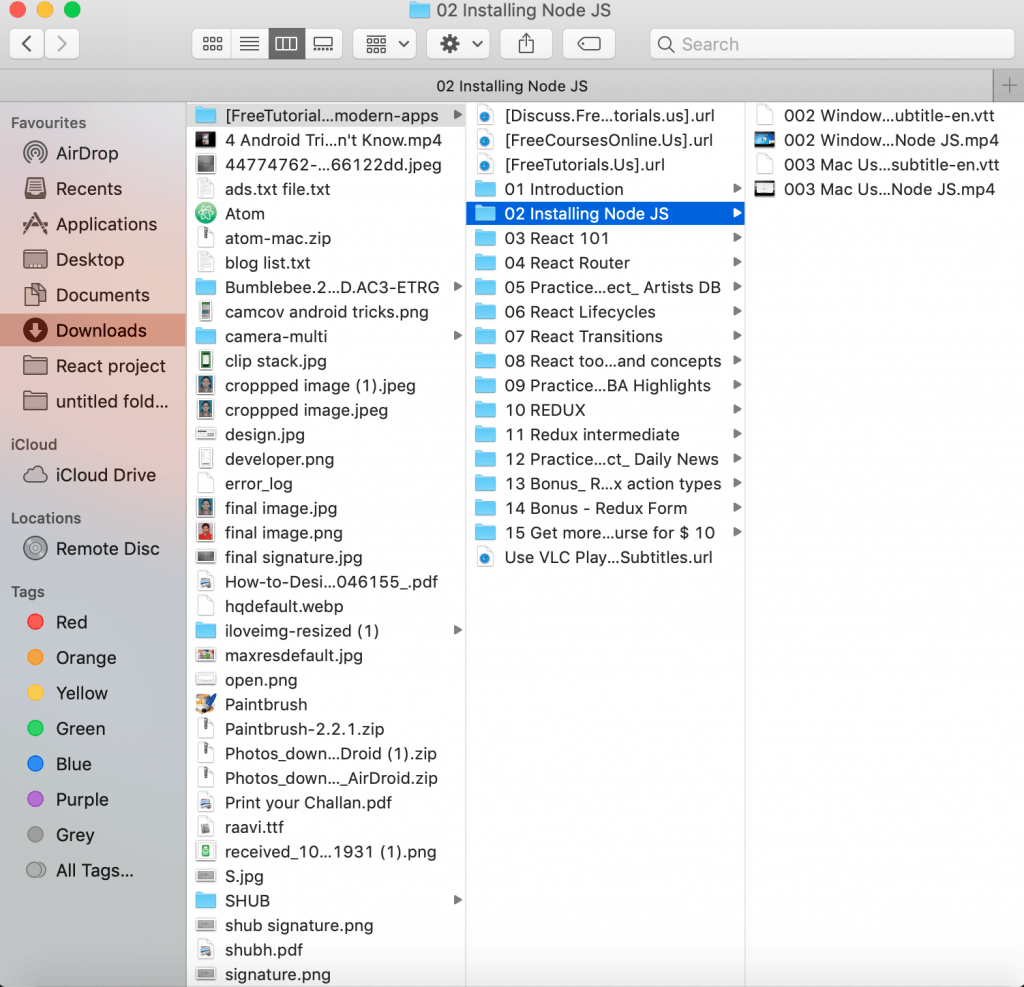 But With Time you will become used to Mac Finder.
Final Point
In windows, we have Different-Different Partition
But in Mac, You have only One partition
If you do a lot Go back-Forward then Mac is better for Productivity.
Winner: Mac
4. Application availability
Here I will give the vote to windows but All important application is available for Mac. But I really miss Internet downloader manager in Mac.
I know there are many alternatives but nothing is like idm. IDM has automatically detected downloads which no mac downloader has.
But the problem is if you use cracked application then ready to spend money.
Some cracked application contains malware so you are protecting yourself.
But if you are a game lover then windows is the only option for you. Mac does not make for playing games and there are no great games for mac.
Winner: Windows
5. Search
Windows has a search box at the bottom while mac has a search at the top.
Both searches are good. I will not the details because I don't know about search too much.  I also assume that you are also not using search too much
Winner: Tie
6. Multitasking
Here I will go with Mac. Because opening application or switching from one application to Another is easy. On Mac, if you have full-screen Mode then you switch from One application or Desktop with 3 fingers swipe.
But on the windows, you have to select an application from the bottom. I know there is some keyword shortcut but here I'm talking about the easiest way or which takes less time. So without any Doubt, I will go with Mac.
Winner: Mac
7. The speed which is better
A lot of users run windows on the HDD even laptop and mac laptop has SSD only. So you will get a lot of fast speed as compared to windows.
If you run windows on SSD then you will get a lot better speed. I did not find the correct answer and I can't test my system because I have different processor ram & storage type.
But with windows, there is one big problem it becomes slow with time. Mac has no difference or little bit difference
No doubt, Window botting is definitely faster than mac. but still mac is winner because it does not get slow with time
Winner: Mac
8. Security
Again Mac but this is not because Apple created a secure OS.
First Keep in Mind if you keep your window and default antivirus up to date then you are secure enough from normal attackers until hacker does not create a virus for you.
And windows far more users than OS X so Hackers create a virus for windows. If people start using OS X then the hacker will try to create a virus for Mac. May eventually they apple to create a virus for Mac like windows.
But for Today We can say Mac is more secure.
Final Notes
Mac is More secure than windows
If you keep your window up to date then you are secure enough until something special does not happen
Automatic Software installation on windows is a privacy issue, not a security issue
Winner: Mac 
9. Safari vs Edge
First of all, I'm a chrome user. I know it consumes more battery than safari/Edge. But I use a lot extension so I have to use Chrome.
Both Browsers are Good. But I think safari is fast and some extensions are also available for safari while for edge there is nothing. I have hate because the default search engine is bing.
Google pay around 12 billion every year to Apple so the default search engine on Apple device should be Google
But I think this is not thing comparable. You can use any Browser But not safari on windows and edge on OS X.
Winner: Mac
10. Dock vs TaskBar
The dock is New for me but with time I become habitual with it. Both are very different from each other. Dock has more customization option from start.
Dock start from the Center while Start from the side. Over the time period, I have found that there is no big difference between both of them.
You can pin any app or has a list of application that is running. Go to Start or Launchpad
Winner: Tie
11. Start vs Launchpad
Both are completely different from each other. OSX shows you Apps like mobile but windows they are on the list which is sorted By Alphabetically.
The first folder then apps. On the Windows, we have a search at the bottom but in Mac, it is at the top. Finding apps in both easy.
Winner: windows 
12. Price: You Know
off course Apple product will cost you more. But if you are not desktop then somehow you can reduce cost By purchasing mac mini only and using another company monitor.
Macbook is starting around $900 (65000inr) sometimes price up & down. This $900 is not super powerful.
Winner: Windows
13. Support
Customer care is very important. sometimes I need to talk to customer care and my problem is solved over the phone only by both companies.
A lot of people use pirated windows and Microsoft does not provide you support for pirated windows. From My Experience both are Good.
Window user has different company hardware so they also call that company or visit care for support. If you want to visit care for help then go with windows if your problem can be solved over the phone then both
Winner: Tie
14. Store vs App Store
Both are not Good. Generally, you will download apps from the Internet or 3rd Party website. But I have found that on the App Store more apps which we use in daily life are available with respect to Store.
But again user has to use 3rd party websites for downloading software. So no Store is able to fulfill requirements.
Winner: Tie
15. Shortcuts
No doubt in both you can create shortcuts. But on windows generally, are shortcuts are like ctrl+something.
On the OSX we have command, ctrl, option, etc. Which is confusing. No doubt because you have a lot switch then you can create more shortcut.
But the user who is switching from windows to mac it is confusing. You have to Google a lot of times to find a simple shortcut like for delete it not delete it is commnand+delete. For Rename Hold the Return Key (Enter key is known as return)
I don't know mac history but it seems like they have done it to make it unique which is terrible in this case. I will vote for windows
Winner: Windows
16. Market share & Revenue
Microsoft has around 79.8% Market share and OSX has only 14.32%. For me, this isn't shocking But Microsft makes more revenue than Apple.
On the mobile side, Apple has only 7% market share Android has more than 80 but still, it makes more money than Android.
After Doing A lot of research I have found that in the last quarter 2018 Microsoft makes 10 billion from windows & Apple Makes 7.4 Billion from Mac. (Revenue).
Apple makes around 75% Revenue from iPhone while for Microsoft it is one of the most money making the product.
In the end, Apple makes more money than Microsoft.
Winner: Windows 
Why I Switch from Windows to Mac
Well, I need a laptop So carrying MacBook air is easy than any other laptop & for privacy reasons, mac seems to better because you know ads while downloading software is very annoying.
I also to try new things & Mac is faster than windows. I want to boost my productivity so that's why I bought Mac
My suggestion for the users. If you are looking for productivity then go with mac otherwise  windows are better because it is cheap
I hope you like this article. What you think about which is better. Let me know by comments.