Online accounts are most important part of our life Sometimes we want to open two facebooks accounts but don't know how to here I am posting how to open multiple facebook accounts same time in one browser .  No matter if you want to open any other accounts like Gmail, twitter, Pinterest,  Instagram, etc.
Also read:
How to re-invite friends to like facebook page
Many browsers have new incognito tab where you can log in 2 accounts if not then you can use proxy websites.
How to open multiple accounts in one browser
Using a proxy website:
Proxy site is the best method to open multiple accounts online. Just type URL of any other site and you were done. This method works in all type of browser. Open your browser and type any proxy site like 
bypasstunnel.com/
 and enter URL of the site which you want to open like
facebook.com
and you can see you are able to open multiple accounts.
List of proxy websites
Open two accounts in Google chrome:
Google chrome has Go incognito feature has gives you facility browsing anonymously to use this feature open Google chrome and click on option nearby to minimize icon as given screenshot and click on Go incognito on clicking it a new tab will open here you can open your second account. You can also open incognito by pressing ctrl+shift+n

Using opera mini:
Download opera mini(new) link here
follow given steps
Open facebook.com
Login your first account
Now hold home button as given screenshot and click on open in private tab
it will open the new tab of facebook login page
Login your 2nd facebook account simply
Using UC browser: Process in UC is also same as in opera. First of all, login first account simple. After that, Open UC has also inbuilt incognito feature open UC menu and tap on the incognito button. On clicking on it will show you a message incognito is on. In this you can login open second id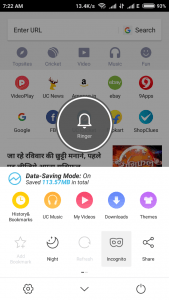 In Mozilla firefox: follow the given methods to open incognito in firefox
Open Mozilla Firefox.
On the top right-hand corner, you should see the and Mozilla Firefox menu icon. Click on the menu icon (the icon with three horizontal lines) and the Mozilla Firefox menu should appear right below the icon.
In the menu, click on the 'New Private Window' tab.
Start browsing in Private Mode.